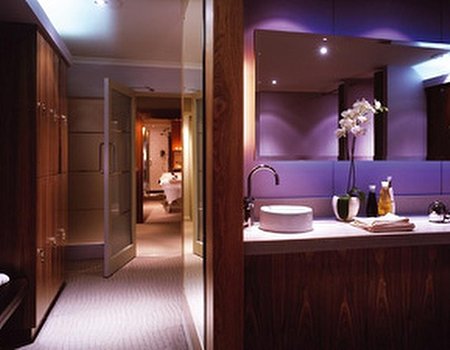 Pax Intrantibus, Salus Exeuntibus. That's the Grayshott Spa's motto: 'peaceful as you enter, healthy as you leave.'
A short stay at a spa has become one of the most effective ways to recharge your batteries when feeling stressed and exhausted. However, you don't necessarily have to be at the end of your tether to enjoy a spa break.
I 'retreated' to the Grayshott Spa for a couple of days and booked a relaxing massage; I was recommended the Rose Indulgence treatment and it was the perfect way to melt away tension. The Rose Indulgence aromatherapy massage was performed by Faye, who has been working at Grayshott for 11 years. Faye - who is friendly and extremely good at her job - used the spa's own blend of essential oils, which are made on the premises and comprise of 7 types of body oils and 3 types of facial oils.
A really nice touch during the treatment was the application of warm Himalayan salt compresses on hands, feet, back and abdomen. I called them "little parcels of happiness" because of their soothing effect.
You notice this level of care in other areas too. Another nice touch was to have face flannels and a bowl of ice available outside the steam room so you could keep cool during your session.
I also had the pleasure of talking to the Director of Natural Therapies Elaine Williams, who has been working at Grayshott for 24 years. Elaine is currently developing a new wellness programme with nutritionist Stephanie Moore for people suffering with stress and insomnia. This programme will feature a holistic approach based on nutrition, exercise and working with the mind, and will combine elements of herbal medicine, osteopathy, acupuncture, nutrition, neuro-linguistic programming, hypnotherapy and cognitive behavioural therapy.
The programme, to be launched later this year, will last 14 days and is designed to help clients regain perspective and equip them with tools to deal successfully with stressful situations.
I went during the Easter Bank Holiday and I would suggest booking treatments well in advance. Also if coming by train, make sure you book a taxi, especially if travelling during high season (and remember that taxis charge more on a Bank Holiday).
Despite the festivities, there was no chocolate in sight throughout my stay. Grayshott's restaurant is committed to healthy eating and the executive chef works alongside nutritionists to provide indulgent and healthy meals based on portion control. The spa also features expert presentations that provide advice on the role nutritional plays in managing stress. I had a quick chat with nutritionist Stephanie Moore who explained to me about the importance of cutting out sugar and increasing the amount of "good fats" in your diet to stop cravings and increase energy levels.
In terms of activities at Grayshott, you can build up an appetite at the gym, in the swimming pool or power walking in the park, before you are treated to a healthy breakfast and lunch buffet. Canapés are available from late afternoon and an à la carte three course dinner is on offer in the evening. There is an endless supply of tea, coffee and herbal teas provided throughout the day too.
I chose to try one of the guided walks on offer in the surrounding woods: nothing beats an invigorating walk out in the fresh air, and the nearby National Trust park is stunning. John and Ravi - who is Grayshott's Director of Fitness and an ex-professional hockey player- were our group's guides. I also took part in a flex and stretch class with Charlotte, who made morning exercise fun and enjoyable.
What really sets Grayshott apart is their warm welcome and fantastic customer service. Staff members are courteous and charming - a special thank you to Jennie at reception for answering my numerous questions so graciously and duty manager Shoneen for being extremely helpful - and they really make you feel at home. The surroundings and interior are also lovely - if only my flat could look this beautiful!
All in all, Grayshott Spa delivered on all accounts and exceeded my expectations.