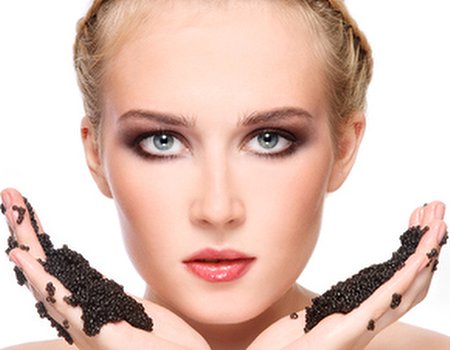 In the quest for perfect pores, celebrities are unashamedly dabbling in a range of peculiar products with the aim of achieving softer, younger looking skin. The celebrities are lapping up these bizarre beauty facials, but who's doing it and just how far will they go?
Victoria Beckham
Our fashion favourite, Victoria Beckham, has been noted for her use of sheep placenta facials. The product is created using stem cells extracted from the sheep, which are frozen and then mixed with a gel to create the freaky facemask. The skin is prepped using a LED light which is supposed to aid skin regeneration for goddess-like, line-free skin.
However, Victoria doesn't just stop there – she also swears by the use of nightingale excrement - known as a Geisha facial. We're not sure how excited we are at the prospect of smearing bird poop on our skin, but Victoria has four children and looks phenomenal so it might just be worth a try. The nightingale – found on the Japanese island of Kyushu – excrement is mixed with rice bran and water, applied to the face, and then dried using UV light. The enzymes in the Nightingale excrement act as an exfoliator, and contain guanine, which is found in pearls. We like the sound of pearls at least...
Kate Middleton
Even the royals have jumped the bandwagon - since being introduced to a facemask containing bee venom, the Duchess of Cambridge, Kate Middleton has become a devoted client of the Deborah Mitchell product. Deborah believes bees do not just belong in the garden; and that the properties found in the venom work instantly to lift, fill and firm. This so-called 'natural Botox' is mixed with Manuka honey and costs a stinging £165.
Angelina Jolie
Very 'Vogue' at the moment, vampires are having their day in the beauty world too. Angelina Jolie, who famously wore a vial of blood around her neck, swears by the 'vampire' facial. Blood is extracted from the arm, mixed with calcium or thrombin, and then re-injected into the face as a platelet rich serum. Not for the faint-hearted, or the undead.
It's not just the females who will try anything in the name of beauty, either - rocker Mick Jagger swears by caviar facials. The enormous level of fish oils and protein protect and nourish the skin leaving it softer with a visible glow – who knew?
We've come a long way from fruity facemasks to the likes of flesh eating, fish pedicures and snail facials. Not one to shut the door on innovation, we'll try anything once…