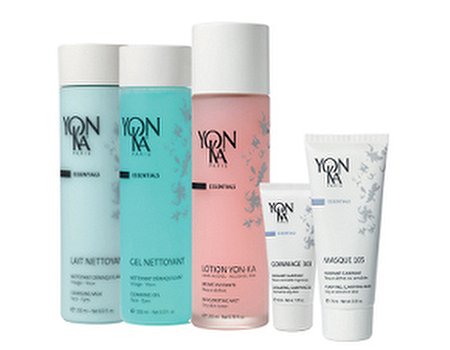 The world really is your oyster when it comes to moisturisers, primers and BB creams. With so many stacking the shelves (and e-shelves) it's hard to know which one is the right one for you. We all know the importance of a salubrious moisturiser, day and night, to ensure a plump, youthful complexion and we definitely want glowing, golden skin all year round.
Introducing: the tinted moisturiser. Perfect as a morning moisturiser, this slightly tinted liquid will leave you with a subtle, sun-kissed colour – ideal for summer and winter. It's a moisturiser, primer, blemish-reducer and self-tanner all in one portable tube. What more could you need in your make-up bag? Well, probably a whole lot more, but a tinted moisturiser is a great place to start.
The brand
Yon-Ka was founded by botanists Charles and Ernest Mühlethaler in Paris in 1954. Together, the brothers invented a process for stabilising essential oils in water-based emulsions, and began to experiment with the creation of phyto-aromatic products - skincare that harnesses the power of plant extracts (vitamins, enzymes and other active elements) alongside fragrant aromatherapy oils.
The name Yon-Ka may sound abstract (and not very Parisian), but it is in fact a combination of two words picked by the Mühlethalers to reflect their philosophy. 'Yon' is the name of a fast-flowing French river filled with purifying water and 'Ka' refers to the principle of regeneration in Egyptian mythology. Combined, they symbolize the brand's commitment to providing products that promote regeneration, restored harmony and a balanced body and mind.
Today the brand is owned by Françoise and Catherine Mühlethaler, the founders' daughters and nieces. They produce Yon-Ka products in a new state of the art 75,000-square-foot (7,000 m2) facility in Argenteuil, designed to maximize quality and purity by conforming to pharmaceutical standards. Yon-Ka skincare is distributed in over 40 countries and 5,000 spas and salons around the world. The brand now has subsidiaries in the US, UK and Switzerland and even opened its own spa on Paris's left bank in 2000.
The product
Yon-Ka Tinted Protection Crème Teintee is designed to be used as a day moisturiser. Enriched with high-performance botanical extracts, it promises to protect skin from environmental factors including pollution, cigarette smoke and exposure to UV rays in order to prevent premature ageing.
Designed as an all-round complexion booster, Crème Teintee is packed with plant extracts including pumpkin seed oil, lavender, cypress, rosemary, thyme and geranium – which also create subtle scent. Crème Teintee is also paraben-free – making it kind to even the most sensitive skins - and is a great source of skin boosting antioxidants. It provides tinted protection so a seamless, sun-kissed, golden glow is achievable all year round, making it potentially the perfect product to carry me through to what looks to be an overcast and blustery winter.
As a magpie for moisturisers, BB creams and primers, I was extremely excited at the prospect of smothering on this fast absorbing, sheer base in the morning with the hope of sporting glowing, great-smelling skin throughout the day.
The result
I was pleased to find that Crème Teintee does exactly what it says on the tin (or tube). It provided oodles of moisture, and left my face feeling supple (despite the fact that my skin has the propensity to feel tight when I use a new moisturiser). I found it gave me a sheer, balanced and natural glow, which provided sufficient coverage to wear alone but was sheer enough to be topped up with concealer, foundation or highlighter where needed.
Crème Teintee also eradicated the need for a primer and the concoction of natural essential oils emitted a deliciously fresh and natural smell that lingered on my skin for several hours. Moderately priced and beautifully effective, I really can't fault it.
Yon-Ka Tinted Protection Crème Teintee retails online for $44 (around £27) for a 50ml tub.