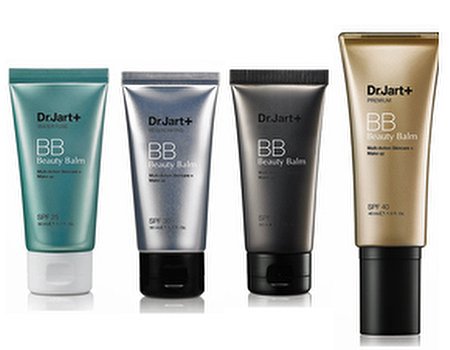 BB creams have been dominating the shelves in beauty stores lately and now it's time for them to move over and make space for the latest addition. Dr. Jart+ is a Beauty Balm product line originating from Korea – where the flawless skin craze initially began.
Developed by an experienced team of 21 dermatologists back in 2004, the Dr. Jart+ dermatological skincare range is one of the hottest beauty finds in Asia. The current collection boasts four beauty balms, which may not sound extensive but given that most BB creams that have reached the UK have had a one-size-fits-all approach, variety is key. These four powerful beauty balms have been individually tailored to adapt to even the most grievous skin concerns – so your skin is always looked after.
The Beauty Balm range retails from £18 to £24, and used correctly can last a healthy few months. With a built-in SPF of up to SPF40, covering blemished skin and evading the sun's harmful rays is manageable using just one bottle.
The four balms are tailored to suit different skin types:
Premium: a built-in high SPF as well as antioxidants fight the signs of ageing while adding a slight gloss to the skin – perfectly suited to the over thirties.
Regenerating: with SPF30, this option provides excellent coverage for spots and redness caused by combination skin and hormone-affected skin, while also being suitable for sensitive types.
Water Fuse: with SPF25 this innovation is ideal for younger skin, controlling sebum production to provide a fresh and natural glow.
Platinum: full of moisturising properties while providing SPF30 so you're well protected, this version is best for those in their thirties thanks to its glow-getting effects.
The new range is free from sulfates, synthetic fragrances and dyes, petrochemicals, phthalates, triclosan and genetically modified organisms – a sure sign that these dermatologists have thought long and hard about what we should put on our skin.
Already in Boots stores up and down the country, more products are available at DrJart+ online including scrubs, skincare and men's grooming. What do you think – is this the best BB cream so far? It certainly sounds good on paper…