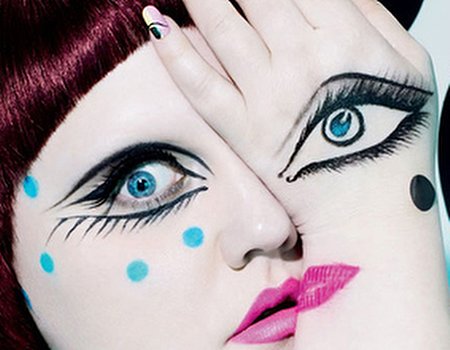 We knew the first day of June signalled more than just a brand new month. Today is the day that our favourite female rocker Beth Ditto's glamorous, show-stopping range for MAC goes on sale online, and if you'd rather get your hands on it straight away it's available at MAC stores and counters around Britain throughout June too.
Lead singer of rocking British band The Gossip, Beth is a huge fan of bright colours, eccentric neon and statement style, so her collaboration with MAC is a dazzling success. The newest collection embodies Beth's colourful nature – something we hope to inject into our own looks this summer.
The extensive range of colour-popping make up includes lip colour in neon pink and deep purple, lip pencils in fuchsia and blackened plum, eye shadow and eye liner duos in a bronze/peach and brown/blue combinations. No true rockstar is complete without lashings of liquid eyeliner and mountains of mascara - Beth's come in black, burgundy, purple and blue. Finally, a collection in colours we're used to, nail lacquer in lavender, yellow, milky peach and of course a deep black. Beth's collection for MAC is truly inspiring – we can't wait to get our hands on the goodies and stand out from the crowd.
MAC is a regular collaborator, recently working with acclaimed fashion designer Gareth Pugh, avant-garde artist Daphne Guinness and even the likes of Miss Piggy. The big beauty brand has also created best-selling Viva Glam products inspired by flamboyant artists Nicki Minaj, Ricky Martin, Lady Gaga and Cyndi Lauper, with all profits going towards the MAC Aids Fund; they've even enlisted inspiration from 90-year old style icon Iris Apfel and Dame Edna.
We adore MAC for its extensive colour range and solid products; we know any collaboration they have up their sleeve is one we'll love. With the Diamond Jubilee this weekend, perhaps it's time they join forces with the Royals? We can only hope…