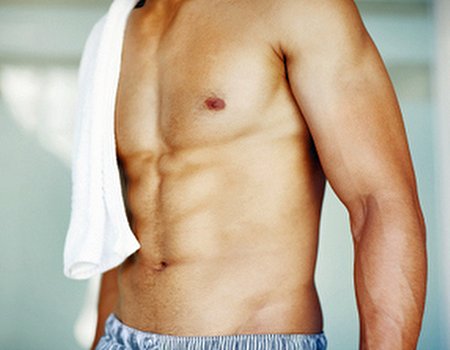 Tanning technology has developed by the bottle load over the past few decades as sporting a glowing tan has become even more popular. Gone are the days of naughty sunbeds, harsh rays and outdated stereotypes – it's all about faking it. No longer just a ladies game, tanning is becoming increasingly common among guys wanting to look healthy, toned and athletic, and we really can't blame them. Celebrities like Peter Andre (who's the lovely face of Fake Bake) and The Only Way is Essex's Mark and Arg are all tanning supremos.
Manly mists
With so many tanning options available it's difficult to know which is the right one, especially for blokes who want a subtle tan that looks healthy and defines the muscles. Spray mists provide very light coverage, which dries instantly to avoid streaks so there's no chance of looking like an Oompa Loompa. The nature of misting creates a very sheer and delicate colour, perfect for men who want to shed the tanning scent while looking their bronzed best.
Cor, contour
Sculpting and contour tanning has been used for many years by makeup artists to perfect their models' bodies. Contour tanning can create shadows and the illusion of depth; this magical process highlights parts of the body so they stand out and look more defined, so you can skip a few sit ups and spray yourself leaner. Contouring can add long lasting definition to a wavering calf or shy six-pack – and all using the humble self-tan.
If you're a tanning virgin, it's probably wiser for you to book in for your first spray tan, then develop a masterful technique from there – we wouldn't want you to get mistaken for Tango's older brother on your night out...
Perfect products
To avoid tanning disasters, clever products with a built in tanner help to produce an understated tan while avoiding hideous streaks. The colour is usually mixed with a moisturiser so you slowly develop a tan, which you can add to as often as you like.
The L'Oreal Men Expert Tanning Moisturiser is enriched with vitamin E so you'll not only have beautiful golden skin but a silky smooth body too, while No7 For Men Gradual Tan Body is a non-greasy lotion that works slowly to build a mesmerising bronze while acting as a top-notch moisturiser. It's a larger bottle so there's enough to coat your whole body too – always best to match your face to your torso...
We're sure our mens' tanning techniques have given you plenty of food for thought – so if you're ready to fake it, check out our spray tanning offers and get ready to glow.