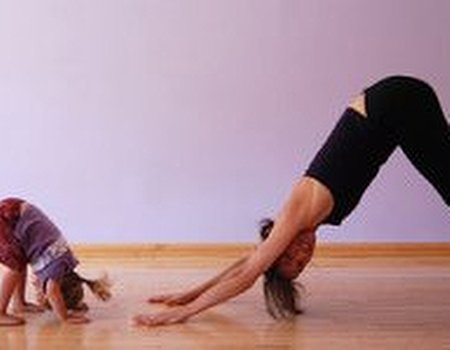 A new wave of parents are now introducing today's youngsters to the ancient act of yoga in an attempt get them into the path of a healthier lifestyle. Many parents are concerned that in the modern age of multiple TV channels, computer games and the Internet, their children spend more time in front of a screen than running around outside. With an increase in school work, social pressures and lack of physical activity, kids are exhibiting signs of tension and stress, and yoga is the perfect solution.
Parents don't even have to step out of their home to help their children get fit. Recent cartoons such as Waybuloo – currently shown on CBeebies – have been created to introduce yoga to pre-schoolers and encourage them and their parents to copy the postures performed by the characters. The new craze has also seen a huge number of parents taking children as young as two to the growing number of classes that now run in nurseries, schools and health clubs around the UK.
Many parents consider yoga a natural way for kids to exercise and something they can do together - kids are even joining in their parents' yoga sessions at home. It relaxes, focuses and strengthens the mind and body, and studies show that yoga has proven to be an effective form of self-help therapy for children diagnosed with attention deficit disorder, and could also be effective in the fight against childhood obesity.
Benefits
Yoga may be seen as an exercise for adults but consistent practice can benefit children as well. Yoga's ability to help relax the mind can develop self-confidence and calmness within children, helping them to deal with difficult emotions as they grow older. It also teaches kids how to live a healthier lifestyle from a young age by making them more aware of their bodies and encourages them to follow a healthy diet and keep active, preventing obesity and future health problems.
Other benefits include:
Maintaining a child's natural flexibility into adulthood
Strengthening the immune system keeping common colds and flu at bay
Yoga breathing techniques increases concentration and energy levels
Helps to correct posture and strengthen the muscles whilst increasing stamina and keeping the lungs healthy
Physicians are even recommending yoga for special needs children as it helps serve as an outlet for their energy, and will improve their social skills for later life, as well as strengthen their bodies.
Many parents are realising that the benefits yoga provides for today's kids are endless. Join in the trend and put that television to good use whether it's for the yoga-endorsing Waybuloo cartoon or to use the Nintendo Wii's yoga game together for a fun way to get fit and healthy.