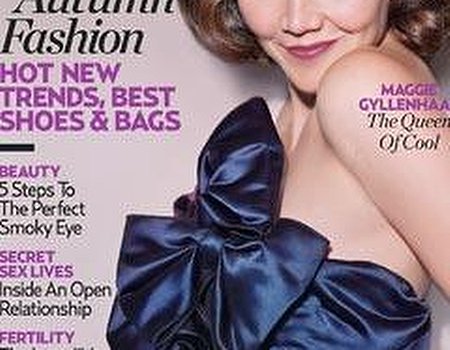 On the cover of the September issue of Marie Claire is a photograph of Maggie Gyllenhaal, and underneath her name is written 'Queen of Cool'. She is very, very cool and one of the loveliest most natural beauties around at the moment. I loved being in her company.
She was in England making the new Nanny McPhee movie and I loved her English accent! Even though everyone is talking about this season's make up being full-on, super finish, with airbrushed skin, contoured cheeks, winged eyes and a lot of beautiful rich colour, there are still some of us who prefer to look almost unmade-up and natural. She is one of them.
Yes, there is another way to go - and I will talk you through the steps of looking your best with as little effort as possible. Maggie has the most gorgeous skin, naturally sparkling eyes and a sweet full mouth. Here is someone who genuinely does not need, or like, much makeup.
So to achieve this look use a good moisturiser that will nourish the skin and give it a natural glow. My favourite at the moment is Natura Bisse 'The Cure' for day. It is detoxifying and restorative, helping to bring out the natural glow of skin. At night I am using Sisley 'At Night' –a wonderful serum which targets many problems, like dryness, wrinkles and discolouration. For a mass brand there is nothing that beats Olay. They have great skincare at a very reasonable price.
Next, apply a small amount of concealer just where it is needed. I use Bobby Brown, as she has excellent colours, and the consistency is perfect. Use a little around the nose, for example, and on any blemishes and broken capillaries. Pat gently into the area where used - do not 'rub in', as this will only remove it. Leave the rest of the skin free of foundation so the 'real' skin is visible.
Go cold turkey on the bronzer. There will be enough definition without. Then use a dab of cream blush on the centre of the cheek. Creams will look more real as powders can sometimes look caked and dry, and will give glowing dewyness. Mac make excellent cream blushers in fresh peachy and pink tones.
Simplicity is the key here, so the eye makeup is kept to the eye lid only. Use a single colour from your favourite brand, whether it be Chanel or Bourgois, then blend a little Taupe from Mac up on to the brow bone from the lid for a little more definition, this will give more shape to the eye. Grey is a big colour this season, and will look newer and fresher than black. For more intensity, if wanted, use Estee Lauder's double Wear Stay – in Place ShadowCream in the roots of the lashes. They are budge- and smudge- proof, so will last all day. Finally use lots of mascara to emphasize the eyes further.
Lips are stained with a berry red, for that just-kissed look. As well as brightening the face, colour on the lips can make even the most casual outfit look glamorous. Dab the colour on with your finger, and fill in the centre using the lipstick or gloss for extra 'pout'.
So there you go, enjoy your simple easygoing look. Everyone will think you look fresh and effortlessly chic… and you will feel great, a natural beauty!