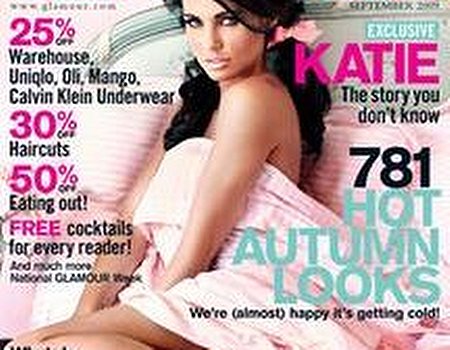 This blog is about mascara and false eyelashes, and who better to use as my inspiration than Katie Price! She is on the cover of the September issue of Glamour magazine with pictures of her inside.
We had a great day making her look glamorous and sexy, and there is no better way to do this than to play up her lovely eyes with loads of mascara and false lashes.
False lashes inject drama into your look. Who doesn't love a long lash? Nothing creates a look of wide-eyed innocence better. Nothing flutters more seductively; they are just drop dead gorgeous. They are so kittenish, girlie and fabulous, and will make your eyes pop like nothing else. Nothing is quicker or easier to throw on than mascara, and, with practice, lashes are also very easy to apply. We want more, more, more. We love mascara, we love fake lashes and we are even developing a taste for lash extensions.
Some people, like Katie, will not leave home without her falsies, and others think their eyes look naked without them.
It is hard to pinpoint the moment when lashes became beauty's favourite fakery, when they were invested with the same oomph power as say the perfect boobs, legs and lips combined, but in the past year they have become an essential.
Lash bars are opening up all over town, Groom and Benefit being just two of them. Topshop is another, Nails Inc have started a false lash service, and Shu Uemura will be opening a Tokyo Lash Factory at Selfidges in London.
Top tips for how to get the best from your lashes, and applying false lashes:
1) First apply your eye make-up. Shape your eyes using powder eye shadows, and use a liquid, gel or pencil liner at the roots of the lashes to give definition.
2) Next use a mascara primer on the lashes. This is non-colour product that coats the lashes and makes them look longer and thicker. It is a great tool if you do not want to use false lashes. Use it as you would mascara, getting right into the roots of your lashes. My two favourite are Armani and Suqqu, both from Selfridges. Lancome have also just launched one on the market too.
3) Now apply your favourite mascara, making sure, again, you are getting into the roots of the lashes, then taking the mascara to the end of lashes with an up and out movement.
4) Choose your false lashes, and then measure them against your own eyes. (This will not apply if you are using single lashes, but only with strips). My favourites are an American brand called Ardell, which are made from real hair and come in different thicknesses. Trim to fit your eye shape.
5) Apply the glue along the line of the false lash. Apply the lashes to your eyelid right in the roots of your own lashes, starting in the inside corner and gently working out. DO NOT PANIC and take your time! Practice is the only way to feel confident doing this, but don't give up. It is worth it!
6) Curl both your false and natural lashes together, and, for extra drama, apply a coat of mascara on top of your real lashes and false.
This will actually make all the lashes look as one, so no-one need know that they are not your own.
I hope you enjoy this fabulous trend as much as I do, and embrace the drama of it all. With mascara and false lashes, more is definitely merrier. Go for a look that makes you look like a Hollywood actress, deeply feminine and drop dead gorgeous.