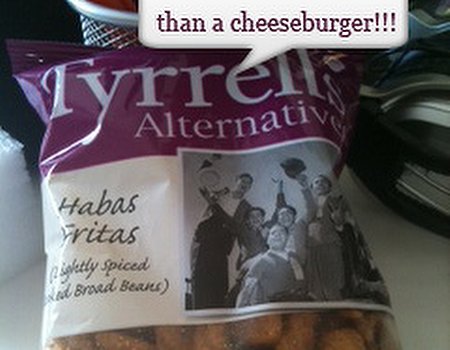 Today for lunch a little group of people from the office embarked on an adventure to Whole Foods for lunch. They have great salad bar, hot food bar, and cold food bar which is typically filled with loads of fresh veggies, salads, and organic proteins.
After picking up my tofu, Greek salad, and barley salad, I decided to find a little afternoon snack. The first snack I saw (which weren't potato chips) were Tyrrell's Alternatives Habas Fritas (lightly spiced cooked broad beans). I had a look at the ingredients and didn't spot any chemicals so I figured they were a good snack.
Once I got back to the office I peeked at the nutrition information for these little treats. After doing the math, I realized that the small bag of Habas Fritas have over 1000 calories…and 57 grams of fat! I'm not usually one to obsess over nutrition information, but I like to have a general idea about what I am putting into my body.
That means this snack I found at the health food store has roughly the same nutrition information as eating 10 chicken wings or 9 slices of bacon. I would need to run 12 miles to burn off that many calories.
Lesson learned: Always read nutrition information and don't fall for buzz words on packaging. Just because something is in a 'health food' store, it can still be very bad for you!