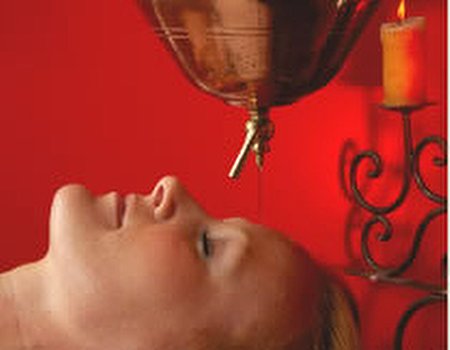 Need a little boost towards your New Year resolutions, or just trying to beat the January blues? Look no further - give Ayurveda treatment Shirodhara a try.
One of the oldest wellness treatments known to mankind, Ayurveda is much more than a relaxing massage: a valid holistic approach to health, this Indian wellness system is based on the five Elements (earth, water, fire, air and ether) and emphasises prevention of disease, rejuvenation of our body systems, and extension of life span. The premise and promise of Ayurveda is that through certain practices, not only can we prevent heart disease and make our headaches go away, but we can also better understand ourselves and the world around us, live a long healthy life in balance and harmony, achieve our fullest potential, and express our true inner nature on a daily basis.
So how is Ayurveda going to cure your winter blues, or give you that nudge you need to start your diet/stop smoking/join the gym?
An Ayurvedic massage with Shirodara treatment might be just what you are looking for.
'Shirodhara' literally means 'head flow'. You will be massaged (full body or neck and shoulders) while a gentle stream of warm oil runs over your forehead: the idea is to open the third eye, the mind's eye, letting go of stored negative feelings, memories and any 'roadblock' that might be preventing you from taking that next step in your life. There is a wonderful feeling of 'letting go', of happily stepping down from your head and allowing everything to flow out.
When it comes to holistic therapies, believing in them is three quarters of the road, but no matter what your feelings are towards this Indian path to wellness, you will (carefully) step off your massage table feeling a strange mixture of peace and intense readiness. A perfect treatment to start the year if we ever tried one!