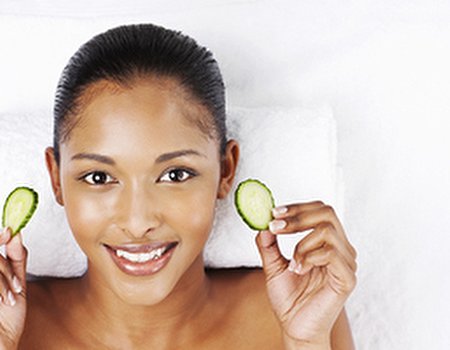 I run various aromatherapy/natural health workshops for ladies, on topics including stress, menopause, beauty, anti-ageing. During these workshops, I give the ladies recipes and tips, facial exercise techniques and teach them how to use aromatherapy in their everyday life.
The workshops are very popular and I have had great feedback, which suggests that the ladies are using the techniques everyday - great news! For instance. I run a workshop/class on facial exercises, and if you do these exercises at home every day you REALLY can lift and tone the face.
In my first couple of posts, I shall chat to you about Natural Beauty. This is one of my most popular workshops, as it involves making natural beauty products from items that we keep in our fridge and our kitchen cupboard.
I believe the key to good healthy skincare is to keep it simple, using 100% natural products. By doing this you will be treating your skin and body with the best natural ingredients, without bombarding them with unnecessary chemicals and preservatives. Many preservatives are potentially harmful to us, even some of the so called 'natural' products contain some chemicals. You may have read recently in the press about parabens, potentially harmful chemical found in many beauty products. They are only in the products to preserve and to extend shelf life, but if you use a natural product you will use it within 6 months anyway - so why do you need preservatives? My advice is ALWAYS read the label and buy natural.
I thought I would share with you a few simple tips of mine to get you started. Once you start making your own products and feel the difference, it becomes very difficult to change back to the factory produced products that you have been previously using. Also, it's great fun to make your own products - and think of the money you will save!
Tips for tired eyes
To treat dark circles, apply 2 cotton wool pads soaked in VERY cold water over the eye area every morning. Simple, but it really works!
For hot, sore eyes try slices of cucumber.
For puffy eyes try slices of potato!
For tired, prickly eyes, use an infusion made from chamomile tea bags (which can be bought from most supermarkets). Use boiled water and allow to cool. Apply over the eye area with cotton wool pads.
I find the best eye make remover is sweet almond oil, as this is very gentle on the eye area and it also nourishes and treats the eyelashes and really does help stimulate lash growth -much better than those harsh eye make removers that are sold on the high street. Sweet almond oil can be bought from most health stores/chemists. An excellent alternative to sweet almond oil is jojoba oil, but this is very expensive. Please avoid getting any product directly in the eye.
Found these tips useful? Stay tuned for some great recipes for homemade natural face masks...