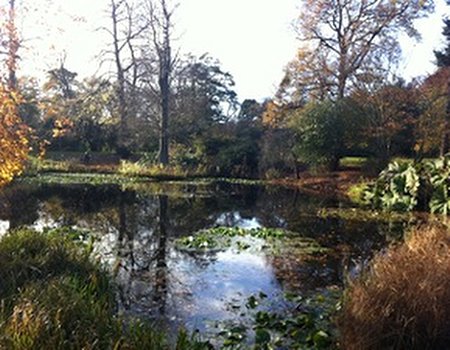 Yesterday may well have been one of the nicest days ever. Because the schools were on strike I got to spend an extra, unexpected, almost illicit day with my children. We packed a few sandwiches, hopped on the train and headed for Kew Gardens. The sun was shining, we scuffled in the leaves, got stalked by peacocks and then ended the day by seeing the most beautiful rainbow on our way home (we even managed to miss getting caught in the rain!)
It could have been different. I'm self-employed so a day off work means a day when I don't earn anything if I don't work, so I could have viewed this strike as not only a gross inconvenience but also costly.
In the first scenario we all had a great time, in the second I would have started the day feeling agitated and have no doubt those feelings of irritation would have escalated as the day went on and the children took full advantage of my mood. Instead of rainbows and peacocks it would have been a day of petty arguments, naughty steps and sweet deprivation. If we had had this day there's no doubt I would have been feeling extremely tense and very stressed by the end of it. In fact I can feel myself grinding my teeth as I type!
The strike was out of my control, it was going ahead whether I liked it, agreed with it, wanted it or not. The only thing in my control was how I reacted to it. It's all a question of perspective a.k.a. 'framing'.
Of course so much of what happens in our lives is out of our control: the weather, the moods of the people around us, the seemingly endless economic gloom, Christmas. And when we feel out of control it can lead to anxiety, worry, sleeplessness, depression, lack of self-worth and decreased confidence. It goes without saying that none of these are good feelings and no-one wants to feel them.
So when you are faced with something you don't particularly like yet have no control over, it's useful to think about how you might face that situation with different frames. Then you can choose which frame best suits you, because different frames force you to behave differently.
Taking the example of the strike:
Frame 1: the "I'm really annoyed about this' frame, would have led me to feeling resentful, angry and frankly pissed off.
Frame 2: the 'find a way to cope' frame, would have made me feel flustered and frustrated as I would not be doing anything properly, trying to do both my job and look after my children
I chose the 'make the best of it frame', this gave me permission to have fun, focus on the kids, turn off the mobile, forget about work and have a guilt-free, fantastic day.
And of course you can think about frames for any situation. Let's apply it to the weather: this weekend we are due to be taking the kids for a bike ride in the park with friends and the forecast is now for torrential rain (I hate rain)...
Frame 1: the 'get on with it' frame = rug up, put our wellies and waterproofs on and don't let the rain get in the way
Frame 2: the 'in denial' frame = pretend it's not raining, carry on regardless, moan a lot about the weather
Frame 3: the 'what's important here' frame = actually the bike ride's not the important thing after all, it's seeing our friends, so we might be going swimming or to see a free concert at the Royal Festival Hall.
I'd love to know how you're going to frame this rainy weekend?