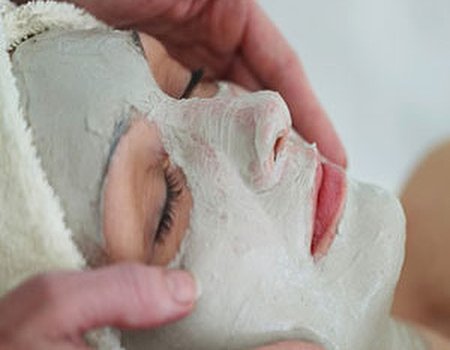 I'll admit it – at age 22, I was a facial virgin. Acne and sensitive skin had plagued me throughout my teen years and since then a less-than-ideal bank balance had left beauty treats decidedly in the "things I cannot afford" pile. So when I got the chance to try out one of Omorovicza's Deep Cleansing and Pore Refining Facials, I couldn't wait.
The Venue
I arrived in a typical bad morning mood – I'd slept badly, my hair was ignoring my orders on all counts and my train had been one of those awful, old, four carriage ones. I was hoping a facial might restore some sort of positivity in me and I wasn't disappointed.
I arrived a little early so took a few minutes to wander around Liberty's – one of my favourite department stores – which definitely put me in the right frame of mind for feeling like a spot of pampering. I was then shown into the treatment room - a gorgeous little place at the side of the beauty department on the ground floor. It's called the Queen Mary Room and it lives up to its royal expectations, with beautiful wood panelling and a luxuriously painted silver ceiling.
The Treatment
My therapist, Szilvia, started by explaining all about the Omorovicza product range. They're 99.9% natural and harness the power of the ancient Hungarian thermal baths, which contain water incredibly rich in the minerals calcium, zinc, manganese, magnesium and copper. These minerals combine to form Omorovicza's Mineral CosmetologyTM: a patented system that promises to allow the absorption of minerals into the deepest layers of skin - leaving it feeling softer, smoother and more supple.
Szilvia asked me a few questions about my skincare routine and then began the facial by asking me to breathe in a hydrating spray, which smelt lovely and was instantly relaxing, before gently cleansing and exfoliating my skin – using warm towels to remove any rock crystals. It was then time to apply a deep cleansing mask made from Hungarian Moor mud, which she left on for about 15 minutes while she exfoliated and moisturised my arms and hands - a fantastic added extra as winter has left my poor hands in a very sorry state. After removing the mask she applied an eye cream and a moisturising serum, finishing with more of the hydrating mist.
Every product she used felt fantastic, and the method she used to apply them was even better. Each layer was gently massaged in with relaxing, soft strokes – an eye massage in particular almost had me completely drifting off. She also used faster techniques that encourage absorption and exercise the facial muscles, which helped to perk me up a bit. Each product was also applied to the neck and décolletage, and the massage that accompanied this helped to smooth out the knots in my stressed shoulders. After she finished, Szilvia also gave me a full breakdown of the Omorovicza products that would be personally good for me to use, based on how my skin had responded during the treatment.
The Result
The whole facial lasted over an hour, which surprised and pleased me – I was expecting to be finished in half an hour. I came out feeling incredibly relaxed and with no sign of my pre-facial morning mood. I was a little concerned that the products would aggravate my sensitive skin but other than a little tingle here and there, which Szilvia said I should expect from the energising ingredients in the products, it felt like it had been made for my skin. Hours later, it still feels fantastically smooth and soft and, for the first time in years, I didn't even feel the need to reapply my make up before stepping back out onto those judgemental London streets. Definitely one to recommend - whether you need a special mood-boost or not.
Good to know
All Omorovicza products exclude:
Parabens
Polyethylene Glycol (PEG)
Silicones
Sodium Laureth Sulfates
Synthetic colours and fragrances