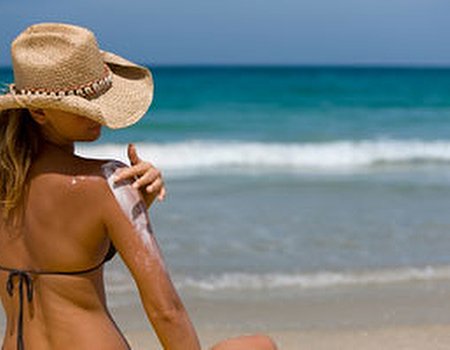 Uncharacteristically fitting for our current weather conditions, 2 – 8 May just happens to be Sun Awareness Week. While it may have cooled down slightly now, there's probably a fair few of you who were feeling the effects of the recent tropical temperatures that graced the UK. Peeling shoulders and tan lines aside, the sun can do a lot more damage than you realise – even if you are just spending the afternoon in a pub garden.
The British Association of Dermatologists' Skin Awareness campaign, which runs annually from April to September, has two primary aims:
to educate people about the dangers of sunburn, excessive tanning and sunbeds
to encourage people to regularly examine themselves for any early signs of skin cancer
Sounds simple enough, but there are still more than 70,000 new cases of skin cancer diagnosed in the UK every year. So before you jet off on your holidays - as well as remembering to take us with you - take note of their advice to avoid paying the price with your health...
Cover up... for those not quite blessed with an A-list bikini body, this will be music to your ears, as there's no better protection than not getting it out in the first place. But while you're here, take a look at our Beach Body offers to get you more than ready to strip off.
Slap on the sunscreen...for the bits you're happy to get out, make sure you go for a high SPF (30+) that protects against both UVB and UVA. Apply liberally 15 minutes before heading out for a sun-worshipping session and reapply every two hours.
Take a siesta...live like the Mediterraneans and have a little snooze in the shade during the hottest part of the day. You're most likely to get burnt between 11am and 3pm, so you can use this time to indulge in some other fabulously relaxing activities. Take a look at our beauty deals for inspiration – after all, that's what holidays are for, right?
Take skincare to a new level...keep a watch on moles or patches of skin that change in any way, and make sure you tell your doctor immediately. Whether you're provided with speedy peace of mind or need to go for some further check-ups, it's always best to get it sorted as quickly as possible.
We want you to enjoy the summer sun as possible, so we've got tons of money-saving offers on tanning without the health warning attached, plus all the info you need on getting rid of any pesky moles or skin tags. Or for more expert advice, take a look at our Skin Sense blog by Mr Paul Banwell, a Consultant Plastic Surgeon who specialises in skin cancer. Now you're all armed and ready with sun safety tips... where's the nearest beach?