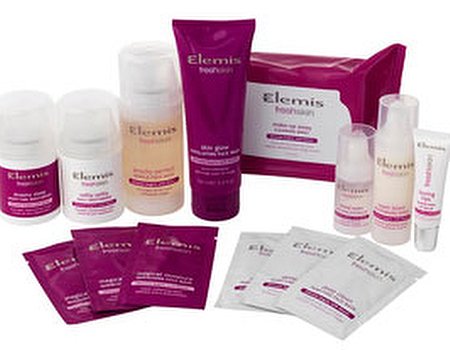 Skincare is a difficult thing when you're in your teens to mid-twenties. You're old enough that you want to start looking after your skin (after all, there are more photos being snapped of you at this age than any other) but you're too busy (or lazy) to spend huge amounts of time tending to your pores.
Most skincare ranges miss out this limbo phase, preferring to skip straight to preventing the first signs of ageing once you hit late-twenties. Elemis, however, have been kind enough to release their new freshskin range – tailored for young skin and capable of keeping up with your packed schedule.
Noella Gabriel, Elemis' Director of Product & Treatment Development and creator of freshskin describes her motivation behind the range:
"We really want freshskin to become a girl's first serious skincare regime using high performance ingredients with lightweight textures, beautiful essential oils making the products not only perform but delight the senses. We'll be so proud when in decades to come people can say they grew up with Elemis and it's still their skin's best friend."
The range includes cleansing wipes, a choice of face washes, both day and night-time moisturisers, a soothing eye rescue (for those slightly-worse-for-wear mornings), a lip balm and a face mask. Each one is formulated with active raw ingredients, such as elderflower, goji berry and geranium, which are combined with skin kind bases to help prevent damage and boost your skin's natural, youthful beauty.
Once you've got your products, make sure you follow the freshskin lifestyle rules:
Feed your skin
Remember to breathe
Eat healthily
Sleep well
Have a break
Spend time on you
Keep cleansing
Invest in your skin
Never get lazy, exercise!
If you feel like you need even more of a boost, check out the great hair and beauty offers we've got for you. Or, grab the girls and get together for a spa break – there's always time to squeeze in a bit of pampering in your packed schedule no matter what your age…