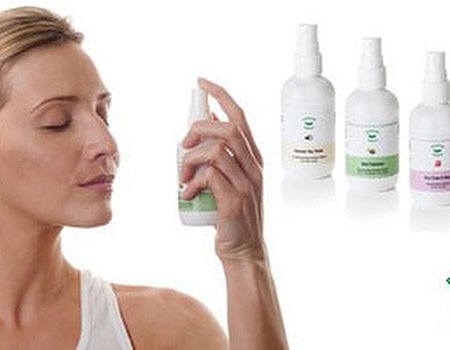 There's not a lot you can do these days to escape the crazy amount of chemicals that we're exposed to on a daily basis. Our food is full of it, the air we breathe is full of it – my coughing fit while styling my hair this morning proves my hairspray is full of it – and the products we apply to our skin every day are one of the big culprits.
We're all chasing after that elusive victory over age and environment: perfect, flawless skin. But unfortunately most of the saving-graces on the market boast an endless list of unpronounceable ingredients.
For some, this is even more of a problem than for others. Teacher, professional make-up artist and entrepreneur (with a degree in Biochemistry to boot) Clare Eluka has suffered from Candida Albicans for years, which means she has allergies to wheat, dairy, gluten and sugar that affect both her internal organs and her skin, hair and nails. Finding it impossible to get beauty products that didn't make her symptoms worse, she set about creating her own 100% natural, allergen free, vegan skincare range, which became Raw Skin Food.
The brand is passionate about products containing nothing but fruit and vegetable butters, floral waters and essential oils – there isn't even a trace of a synthetic replica or plant-based preservative in their lotions and potions. They're also approved by the British Union for the Abolition of Vivisection (BUAV), due to their commitment to ethical testing, manufacturing and production, so you know you're being kind to your skin and the animal kingdom at the same time.
Now, with five ranges suitable for dry, oily and sensitive skin, Raw Skin Food has opened its first spa on the opulent Sloane Street. Working in partnership with beauty industry veteran Ivo Venturi, the spa are offering luxurious facial and body treatments using Clare's 100% allergen-free products.
I went along to the launch to give my skin a personal taste of Raw Skin Food and thoroughly enjoyed the experience. I was lucky enough to receive a reviving massage from sports masseuse, Sam, who managed to iron out my impossibly tight hamstrings, and the lime oil she used left me feeling brilliantly refreshed. The spa itself is lacking slightly in those high-quality finishing touches (although I'm sure these will improve with time) but it was meeting Clare and hearing about her journey towards creating the Raw Skin Food brand that really sets these products apart.
Knowing that everything you're (literally) feeding your skin with is 100% natural and – more than that – good for it is reassuring, to say the least. The products also smell and feel amazing – definitely much nicer than that lovely clinical aroma you often leave floating around after using other intensive creams. Almost good enough to eat!
I recommend you indulge your skin in one of Raw Skin Food's treatments, packed full of superfood goodness – you could be amazed at how good you can look without the newest, ground-breaking chemicals plastered into your pores. And, if that's not enough to tempt you, we've got a competition with Raw Skin Food coming up in the next few weeks, so you could even try it out for free - you see, we're so good for you, naturally…