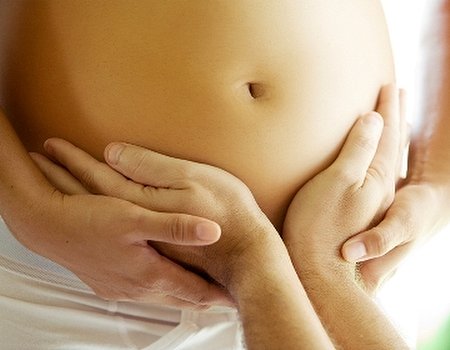 Being pregnant isn't all about morning sickness and hiding under hideous clothing, you know. Take Miranda Kerr – the newly pregnant Mrs Orlando Bloom showed off an envious figure and gorgeous glowing skin while practising yoga recently, proving that being pregnant doesn't have to mean feeling frumpy and being permanently chained to the sofa while the burgeoning bump takes over.
We know it's a tough job being an expectant mum, but Wahanda thinks that makes you-time even more important. We also know that you need to be careful, which is why we've put together a list of treatments and exercises which are safe for mums-to-be. That said, you should always check with your doctor or midwife if you're unsure – and the therapists will have a good idea too. Go on, you deserve to unwind, so be pampered and preened to perfection with peace of mind…
Yoga
Miranda is in good company – Gisele and Victoria's Secret model Alessandra Ambrosio practiced yoga throughout their pregnancies. It's no wonder that prenatal yoga is becoming increasingly popular among mums-to-be – it's safe and has loads of beneficial effects.
Yoga is great for the body, mind and spirit and a few sessions may help to calm those raging hormones. The breathing technique practiced during classes will also help to prepare you for the big day. Other benefits include: helping to reduce blood pressure, improving digestion power, and it's also rumored to provide relief from morning sickness.
It all sounds hunky-dory, but before you raid the shops for yoga mats, you should take into account some precautions such as steering away from poses that require you to twist from your belly. Your instructor will know what is best and there may even be specific classes for you to take. It's also worth consulting and checking with your doctor on a regular basis in-between sessions – you can never be too careful.
Facials
While some ladies are blessed with the enviable 'pregnancy glow', others will be left with the short end of the stick. We agree, life isn't always fair... However, there are other ways to cheat your way into what Mother Nature deprived you of with facial treatments. Just because you're pregnant, it doesn't mean beauty clinics are totally off limits.
Make sure your therapist knows about your pregnancy before you book anything because not all facial treatments are suitable for pregnant women. For example, it's best to avoid the use of any acids, like Alpha hydroxy acids, peels and some aromatherapy oils that may cause problems or make morning sickness worse.
Although there are some limits to what you should avoid with a facial treatment, good spas and beauty salons will have a list of gentle treatments that you can indulge in such as those designed to minimise the severity of the hormonally-driven acne breakouts.
Pre and Post Natal Massage
That ballooning bump is so lovable isn't it? Except, it would be nice if those pesky aches and pains, brought on by that extra little person, didn't come with it. Fret not, it's time to check yourself into a spa for a much needed pre-natal or ante-natal pregnancy massage.
Designed specifically for expectant mums, various styles and techniques are used depending on your needs. There are different types of massages including: Deep Tissue Massage (which relieves tension and improves movement), Relaxation Massage (which helps to increase the metabolic rate and breaks down food) and Lymphatic Drainage Massage (which maintains circulation and decreases swelling).
When we say full body massage, we mean full body massage – during the treatment your back, neck, shoulders, arms, hands, legs and feet will all be massaged. Sounds like heaven, doesn't it? And just when you thought it couldn't get any better, you'll be covered with towels to keep you comfortable, warm and relaxed, so there's no risk of over exposure and a blend of baby-friendly oils will be applied to help you unwind.
As these massages are specifically designed for pregnant women, it should be a completely safe treatment. Most therapists recommend you wait until your second trimester before you book in for one of these, but check with the therapist or your doctor if you're in desperate need for a pre-natal or ante-natal pregnancy massage. Remember, if you don't ask, you don't get…
Aqua aerobics
Eating for two is the perfect excuse to binge out on triple the amount of food than usual. Celebs do it and manage to keep in shape, why can't we? Truth is, what we don't see is the unglamorous side of it all: they actually exercise to maintain their perfect bodies. Urgh!
Exercising doesn't always equal boring. Actually, we've found a great way to stay in shape while having fun at the same time - aqua aerobics. It's aerobics with a twist, and doctors recommend it as it's a low-impact exercise that is easier and more comfortable on the joints, reducing the risk of stress-related injuries.
We know it's not easy to maintain your balance with the added 'bump' going on there, but when you are under water, you don't really need to worry about maintaining your balance because the water's buoyancy is supporting you. Isn't it nice to have a helping hand sometimes?
The water's temperature will prevent you from overheating during your workout, so you won't need to worry about working up a sweat. You'll be sporting a toned but healthy pregnancy figure to rival those celebs in no time…
Being pregnant has never sounded so glamorous. We've given you a few ideas to start off with but please do check with your doctors or seek professional advice before booking any treatments or braving any kind of exercise – and enjoy relaxing the Wahanda way…