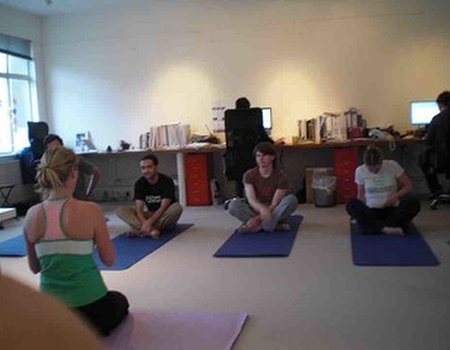 I suspect that Wahanda is like so many businesses -- we would like to incorporate wellness and wellbeing into our business and to ensure that our employees are happy and healthy but it can be hard to figure out how to do that regularly. We all work too hard, we all feel stressed at times and we all forget to take the time to take care of ourselves. The irony is that even at Wahanda, we feel this even though we live wellness all day and everyday.
That is why recently we introduced a free weekly Yoga lesson for all employees in the office. Every Thursday, the lovely Kristy Norton who, naturally, we found using our therapist search, comes to the office and leads a one hour yoga lesson. We don't have a dedicated room for this. We simply clear the desks and roll-out our mats. It couldn't be easier and everyone seems to really love it.
Beyond the obvious benefits of giving all of us a break in the day, its also a great team activity which we can all share and I think helps brings the team closer together. Best of all it forces all of us to stop and to participate. There are no excuses and doesn't require anyone to go anywhere.
Ultimately, as Wahanda grows, I would like to have a dedicated yoga and fitness studio in the office and to have free lessons for everyone but in the meantime this is a great first step. Its not expensive, doesn't require a lot of space and really does provide a lot of benefits to consumers. It must be something that more of us could do in our businesses. Getting out of the office can be hard but bringing wellness into the workspace has to be on the of the most important trends of the future.
What are you doing to bring wellness into your workspace? Please drop me a line and share some of the innovative things you are doing and I will share the best ideas on this blog.