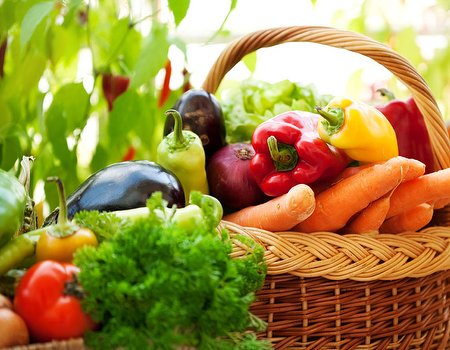 Earlier this week, the news broke that the five daily portions of fruit and veg we are advised to eat every day may not be as effective as we think.
According to a recent study by University College London, the risk of death by any cause can be reduced by 42% by eating seven or more portions of fruit and vegetables a day.
The study analysed data from the Health Survey for England (which collects information through questionnaires and nurse visits) collected between 2001 and 2008 to look into the effects of diet and lifestyle on general mortality as well as death from cancer, heart disease and stroke.
The results suggest a correlation between reports of premature death and low fruit and veg consumption, concluding that the people who eat at least seven pieces of fruit and veg everyday (particularly fresh vegetables) live longer.
The explanation behind the findings seems to be the antioxidants found in fresh fruit and veg, which work to repair damaged cells and protect against disease. Luckily for us all, these findings have come at the perfect time, as the warmer months will see all manner of gorgeous veg coming into season.
To inspire you (and us) to eat more greens, we've rounded up seven healthy seasonal offerings, and over the next few weeks we'll be publishing delicious recipes to help get them onto your plate.
Cauliflower
Resist the temptation to cover it in cheese and cauliflower is something of a nutritional multi-tasker. Rich in B vitamins, vitamin K, omega-3 fatty acids plus glucosinolates and thiocyanates, which – although difficult to pronounce – help to increase the liver's ability to neutralise potentially toxic substances. Plenty of studies (told you we love studies) have shown links between cauliflower consumption and cancer prevention and it is widely believed to reduce the risk of diseases like arthritis, obesity, diabetes mellitus and inflammatory bowel disease. Nothing flowery about that.

Celariac
Like Cauliflower, celariac (or celery root) is another good source of vitamin-K, which is hugely important for healthy bones. The peppery veg is also packed full of poly-acetylene anti-oxidants – we don't know exactly what they are, but according to the University of Newcastle Upon Tyne they play a huge role in protecting against colon cancer and acute lymphoblastic leukemia. Celariac is also rich in vitamins A, C and E, essential oils and carotene and is believed to have soothing, antiseptic and anti allergic properties as well as the ability to improve liver and bladder function, reduce swellings, and stimulate the metabolism.
Grapefruit
The bitter cousin of the beloved orange, Grapefruit is, unsurprisingly, packed full of vitamin C. Known for its immune-boosting properties, vitamin C also works to prevent the absorption of free radicals associated with inflammatory conditions, such as asthma, osteoarthritis, and rheumatoid arthritis. Eatng half a grapefruit at the start of your meal is also believed – by a large proportion of Hollywood – to help dieters lose weight. We're still waiting on the study for that one…
Purple sprouting broccoli
Not only is purple sprouting broccoli prettier than the regular kind, it's also delicious and packed full of goodness. A good source of phytochemicalsulphoraphane (try saying that three times), which is believed to help prevent cancer, it has also been suggested that eating this veg can reduce the risk of heart disease, osteoporosis and diabetes. Purple sprouting broccoli is also a good source of vitamin C, caretenoids, iron, folic acid, calcium, fibre and vitamin A. Not just a pretty face/veg.
Rhubarb
One of the least calorific vegetables, rhubarb is also widely believed to be one of the most delicious. Ok, that's our opinion, not scientific fact. What science does have to say about the red stalk is that it's rich in several B vitamins and vitamin A. A natural anti-oxidant, vitamin A is required by the body to maintain good skin (read all about it here), and believed to sustain healthy eyesight. It also makes an excellent crumble.
Watercress
Known as the healing herb, watercress has been used for its medicinal properties since the days of Hippocrates (that's around 400 BC). Since then, we've discovered it's a great source of more than 15 essential vitamins and minerals including more iron than spinach, more calcium than milk, and more vitamin C than oranges. It's also rich in vitamin K, and the gluconasturtiin that gives it its peppery kick has been shown to inhibit carcinogens and prevent disease. And you thought it was just for egg sandwiches.
Spinach
Thanks to a certain cartoon sailor-man, we don't really need to tell you about the benefits of eating spinach. This low calorie superfood is incredibly rich in iron, meaning it helps with energy levels, vitality and the quality of our blood. What isn't as well knows about this leafy green is that it's an excellent source of vitamin K, vitamin A, vitamin C, folic acid, magnesium, iron and vitamin B2. The bulging muscles are an added bonus.