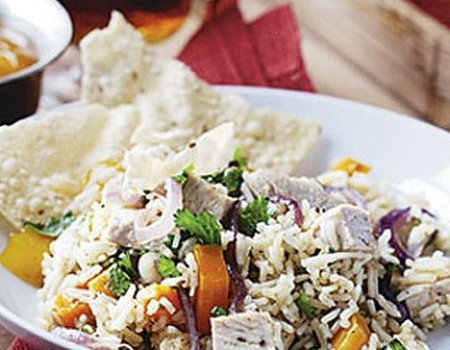 Christmas Day has been and gone and while the family is still steadily working its way through the festive chocolate supply, there's a mountain of sprouts in the fridge feeling rather unloved. Before you give up on healthy eating entirely and let all those delicious and (more importantly) nutritious Christmas ingredients get ruined, why not have a look at these tempting yet low-fat leftover recipe ideas from [ http://www.waitrose.com/content/waitrose/en/home/christmaswithwaitrose.html Waitrose]. Bon appétit…
Turkey Biryani With Red Onion and Coriander (pictured above)
Serves: 6, 669kcal per serving
You will need
2 tbsp sunflower oil
4 carrots, diced
2 red onions, sliced
600g basmati rice
1.2 litres hot chicken stock
400g cooked, skinless turkey, diced
2 tbsp Veeraswamy Hot Madras Curry Paste
20g pack fresh coriander, roughly chopped
Method
Heat the oil in a large flameproof casserole dish, add the carrots and onions, and cook for 5-6 minutes until the onions are softened.
Add the rice, pour over the stock, then add the turkey.
Stir in the curry paste and bring to the boil.
Reduce the heat then cover and simmer gently for about 15 minutes, until the rice is tender and the liquid has been absorbed.
Stir in the coriander, then divide between serving bowls. Serve with poppadoms and Waitrose Spicy Peach Chutney.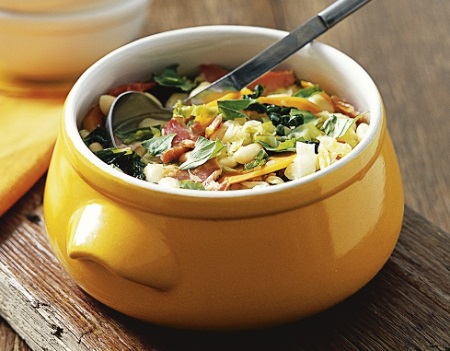 Ribollita meaning 're-boiled' (a hearty Tuscan vegetable soup originally made with leftovers)
Serves: 6, 383kcal per serving
You will need
175g Borlotti Beans
3 tbsp olive oil
1 red onion, finely chopped
2 tsp Chopped Garlic
½ x 80g pack parsley, chopped
1 carrot, peeled and chopped
2 stalks celery, chopped
400g Waitrose Cooks' Ingredients Chopped Tomatoes with Onion and Basil
2 litres Vegetable Stock
1 Kashmiri Chilli
1 savoy cabbage, trimmed and finely shredded
200g bag baby leaf greens, trimmed and shredded (or whatever you have leftover from yesterday)
2 courgettes, diced (again, substitute with whatever you have leftover from yesterday)
1 day-old ciabatta loaf
Parmigiano Reggiano, shavings
Method
Cover the beans with cold water and soak overnight.
Drain, place in a pan and cover with fresh cold water. Boil for 10 minutes, then drain and return to the pan with fresh water. Bring to the boil, then cover and simmer for 1 hour or until tender. Drain.
Heat the oil in a large pan, add the onion, garlic, parsley, carrot and celery and cook gently for 30 minutes or until soft, stirring occasionally.
Stir in the tomatoes, stock and chilli and simmer for 30 minutes.
Stir in the green vegetables and beans, season with salt and freshly ground black pepper and simmer for a further 30 minutes.
Remove the crusts then tear up the bread and divide between warmed soup bowls. Remove the chilli and spoon the soup over the bread.
Serve immediately, drizzled olive oil and scattered with Parmigiano Reggiano.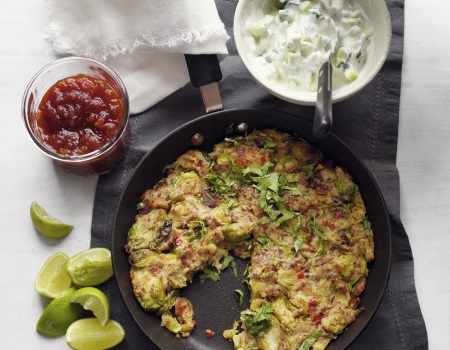 Spicy bubble & squeak
Serves: 2, 422kcal per serving
You will need
1 tbsp groundnut oil
15g unsalted butter
1 onion, finely chopped
1 clove garlic, chopped
1cm piece fresh root ginger, peeled and finely chopped
1 red chilli, halved, deseeded and chopped
2 tsp ground cumin
1 x ½ tsp garam masala
270g (about 20) cooked Brussels sprouts, sliced
400g cooked mashed potato
28g pack fresh coriander, chopped
Method
Heat the oil and butter in a non-stick frying pan and add the onion. Sauté over a medium heat until golden then add the garlic, ginger, chilli, cumin and garam masala and cook for another 2 minutes or so.
Add the sprouts and let them colour slightly, tossing them in the spices to coat.
Add the potato and coriander and mix everything together. Season, then gently spread the mixture out to cover the base of the pan (the more crusty bits you end up with the better).
Cook over a medium heat, allowing the mixture to colour nicely on the bottom, then break the mixture up so that other bits end up on the bottom. You should end up with a nice 'cake' that's golden brown all over.
Serve from the pan, cutting it into wedges. Delicious with chutney, cucumber raita, wedges of lime and cold beer.