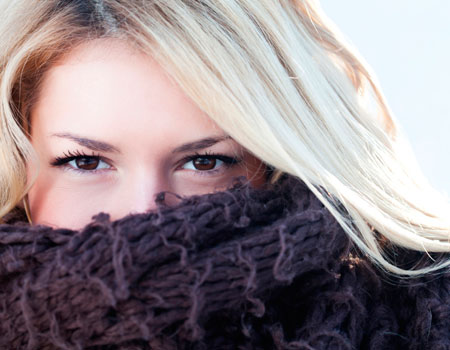 From holidaying in the great outdoors to pottering in the garden, anyone who was lucky enough to enjoy some of those elusive golden rays this summer will agree we tend to look and feel our best between the months of June and September. Unfortunately, just when we're feeling sun-kissed and radiant things start looking a bit autumnal in the UK, and before we know it, it's October. Feeling a bit wintry? Take a look at this handy 6-step guide to holding on to what's left of your summer glow...
1. As usual, it's all about water (yawn), but since it makes up about 70% of the body, it's too vital to ignore. Drinking plenty of hydrating fluid is key to good health and skin all year round, but boosting the moisture levels in the upper epidermis (where your melanin pigments are stored) can actually help maintain what's left of your tan. Your epidermis replaces itself fully every 30 days or so, but dry skin will flake and shed more rapidly. Binding moisture deep into the skin can postpone this. Face masks are great for this as they are liberally-applied and left to work on the skin. Go for masks containing seaweed extracts or blue-green algae like chlorella – these are claimed to hold moisture in the skin for longer.

2. Another great way to lock in moisture is to start to use an oil-based serum – ideally overnight – and/or a rich night cream containing plant oils. The body performs most of its healing and repairs overnight, so it's the perfect time to apply these to a cleansed, make-up free face. Being oil-based, they will sit on the skin and effectively act as a springboard to allow the essential vitamins, minerals and amino acids contained within to soak in. The oil itself acts as a temporary barrier to lock goodness in place for longer. Look out for vitamins E and A as they are fab for skin repair and elastin/collagen renewal.
3. Green is good. As a general rule, the greener the plant is, the better – especially if eaten raw. Green plants are densely packed with phytochemicals like chlorophyll and vitamins A, C, E and K, which are essential for skin health, immunity and detoxification. Chlorophyll is the bio-chemical compound used to convert sunlight into the energy a plant needs to grow. It also happens to be one of the richest natural sources of magnesium, which regulates melatonin. Kale, spinach, cabbage, watercress and chard are all super options, and if consumed raw or only very lightly steamed or stir-fried, you won't alter the essential protein structures.
4.Try to include as much time outdoors as the weather permits, or at least sit near a well-lit window if you're office-bound. When the sunlight hours and quality dip in the autumn and winter, our melatonin levels naturally rise. The more melatonin we have the more sleep we need – put it this way, in some animals it gets so high it triggers hibernation. In humans imbalance is actually linked to depression and S.A.D. (Seasonal Affective Disorder). So, for a melatonin boost, take a tip from Popeye and eat yer spinach, roll yer sleeves up and get some sea air!

5. Another casualty of the falling UVA/UVB levels is vitamin D, aka the 'sunshine vitamin', which is produced naturally in the skin upon exposure to the sun. As we spend more time indoors and cover up more when outdoors, we need to make sure we include sources of this vitamin in our diets instead. Latest research suggests vitamin D deficiency is linked to poor heart health, diabetes, dental cavities, poor immunity, inflammatory diseases and depression. Your best natural source by far is the oily fish family, which includes tuna, sardines and salmon – or cod liver oil taken as a supplement. If you're not a fish-eater, try fortified soy milk, orange juice and a good vitamin D supplement.

6. Still feeling wintry? There's nothing wrong with a touch of bronzing powder and a slick of pink lip-gloss. 

Until next time, folks!
To find out more about Liz and her company Face the World visit www.face-the-world.co.uk, or to book one of her signature 'round the world' facials take a look at all the salons and spas offering the treatment here.