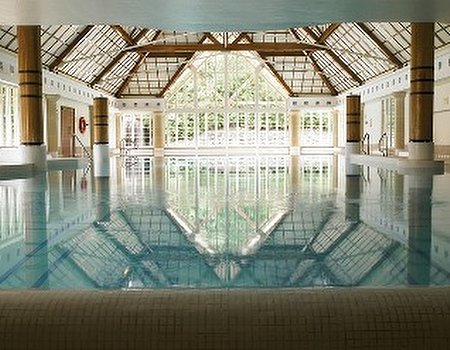 Venue
Surrounded by luscious forests and nestled in open grounds, if you want to get away, Champneys, Forest Mere is the place to escape to. Hidden in the heart of Hampshire, just off the busy Hindhead motorway in Liphook, visitors are transported to a peaceful idyll, where no traffic or signs of the hectic outside world can be heard!
The day
No stranger to celebrities, the Champneys resort is impressive to say the least. Boasting a twenty five metre pool, the latest spa and gym facilities (not to mention luxurious treatment rooms), Forest Mere is a secluded hidden hideaway- perfect for some much needed peace and quiet.
We were greeted by friendly staff, who promptly gave us individual packs containing schedules of the day and offered us a tour of the facilities- handy so we knew where we were going!
To start, we went for a splash in the pool and then tried a spell in the whirl pool, sauna and steam rooms. After the first hour at Forest Mere, I already felt myself beginning to unwind and could easily get used to the luxury!
Unfortunately, although treatments were available, they incurred an extra charge. However, various fitness classes were included in our package and so once we'd dried off, we went to our first class of the day: chi ball yoga.
This was one of our favourite classes; it was a great relaxing exercise to ease us into the strenuous activities that were to follow. A mix of tai chi, Pilates and yoga, chi ball yoga is a holistic approach to exercise that incorporates ancient elements of Chinese medicine, the ying and yang movements of tai chi and colour therapy.
At the beginning of the session, we were asked to pick out a coloured, scented ball that we felt most attracted to. It was later revealed that our choices represented our personalities, and as I was immediately drawn to the purple ball, I am apparently a soft, sensitive person with paranormal abilities (creepy, but true). My mum (who chose a red ball), was told that her personality is passionate with high energy and my sister (who went with green) is said to be a lover of the earth and home-maker- both fairly strong matches!
We then used the soft Swiss-like balls to stretch out our fingertips, spreading them across the squishy surface. This improved our balance and also helped us practise ying (soft, female) and yang (strong, masculine) movements. The class mostly consisted of slow movements, but you could feel your body being tested, as most movements were stretching or balancing actions designed to increase flexibility.
At one point, we were told to lie on yoga mats with the ball resting beneath our backs and to quickly roll from side to side, like a child rolling down a hill. It may sound a bit strange, but the movement actually acted as a tension-releasing massage for our spines!
At the end of the session, we did a little meditation- my favourite part of yoga. The instructor told us to close our eyes and to pay attention to the colours we saw in the darkness. She even put blankets over us so we didn't get cold, which can sometimes happen during meditation. Completely relaxed, I could have happily dozed off right there and then.
Relaxing and invigorating, chi ball yoga focuses on the individual's sense of well being. The blend of deep relaxation mixed with flexibility and balance-testing yoga is a winning combination that strives to develop your natural state of contentment and happiness, whilst the exercise element helps you to keep fit too! I would definitely do this again.
Next up was the slightly more strenuous fitness class Ballet Workout. A hit across gyms nationwide, the class featured moves from the popular New York Ballet workout. A word of warning to newcomers; this is not for the fainthearted!
As a former ballerina (yes, I got up to grade 1; no, I did not subject myself to the pain of pointes), I thought I would really enjoy this class. However, rather than the emphasis being on routines and the dance aspect of ballet, it focused on the strength and flexibility that ballet requires- after all, it is called a workout!
We did a lot of stretching before we began to make sure our bodies were fully limbered up for the class, and then moved onto plies and demi plies from first position. Still pointing our toes, we then moved over to the barre to practise lifts with our arms in third position (overhead) or on the barre for support. As well as balancing, we practised elevated pull-ups in a sequence.
Balancing is a key part of ballet, and the instructor encouraged us to lift our legs high as we could during many moves. Whilst the movements may not have been fast, we found out that it is holding the position (and yourself upright) that wears you out!
Next up was the harsh New York City Ballet floor move, which embarrassingly I could not do, having got cramp in my foot! The instructor did say it was a tricky one...but perhaps it was because I was pining for my lunch!
All in all, we progressed through some great cardiovascular exercises that worked to strengthen the backs of our legs and firm our behinds. In the end, I found that I did enjoy the ballet elements of the class (even if they were hard work)!
I needed sustenance, so after the class finished, we trotted (in our luxurious white gowns and slippers) to the spa restaurant. What welcomed us was an array of healthy choices (no crisps and choccie to be found here), including salad, cold meats, fresh bread and fresh pasta served in front of your eyes and customized to your taste. When it came to dessert, the options were yogurt or fresh, juicy fruit (completing a perfect, healthy meal of the highest standard!)
Whilst water is available throughout the day, if you get peckish later on (which we did) snacks are not included in the package. We caved in, but a lovely hot chocolate and a cheeky chocolate cake was the perfect way to round off the day.
Before we gave in to chocolate indulgence, we were back on the fitness wagon right after lunch and headed to the dance studio for another favourite of the day: dance class.
Both my sister and I love to dance, and so does my mum (even if she isn't doing the right moves half the time). The brilliant teacher, Rebecca, put us through our paces and there was no need to worry if you weren't the best dancer, as Rebecca did not focus on ability, but dancing with energy and most of all, having fun!
We practised a high energy routine to the cheesy Michael Jackson tune, P.Y.T and were soon spinning and strutting around the studio, leaving the whole class exhausted and in stitches!
After all that jumping around, we were in desperate need of freshening up, so we popped back to the pool. I was up for a lounge in the whirl pool, maybe a followed by a hot soak in the sauna...but it was not to be.
There was an aqua class about to start, so we (now a family of fitness freaks) joined in. It was a water-based class with a difference and was dubbed Aqua Circuit. A high-powered circuit of activities in the water, it pushed us to our limits and involved "cycling" with floats, 'jumping' jacks, punching through the water and sprinting the width of the pool- it was pretty hard going!
We had tons of fun and experienced a fairly exhausting workout at the same time. It was a great end to our action-packed day at Champneys.
Results
Overall, it was a brilliant experience, and to quote my mum: "One of the best days of her life". It was a fabulous day of luxury and fitness galore- we could have quite happily stayed the night and kept those gowns and slippers on a little while longer!
While it was good value for money, we only wished the 'relax day' had a mini facial or manicure thrown in, as it would have been nice to be treated without having to pay extra. There are even some fitness classes you still have to pay for, so do watch out for those hidden extras on the day.
Despite this, we thoroughly enjoyed ourselves and I would recommend Champneys to anyone who's got who's got a birthday coming up and fancies a touch of pampering.
Check out Champneys resort spas near you on Wahanda and remember you can use Wahanda vouchers at selected locations. So what are you waiting for? It's time for some "you" time!