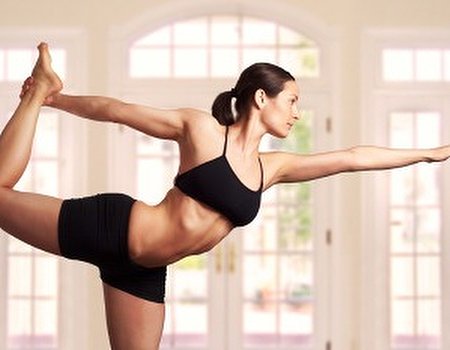 When Wahanda received an invitation to visit new Wellness centre, Evolve, on their open day, we couldn't resist and opted to try out new style of yoga; Budokon.
A favourite among Hollywood's elite, including Jennifer Aniston and Courtney Cox (to name but a few), we fancied ourselves as yoga bunnies. Having already made a stab at Hatha Yoga at my local gym, I thought myself a bit of yoga pro, however I soon found out that was far from the truth...
Venue
Set in the heart of South Kensington, in a tranquil mews off the Old Brompton Road, the centre is a blissful haven away from the hubbub of the busy West London streets. All white walls and perfect minimalism, we found ourselves transported to another, significantly calmer, world.
The centre boasts three yoga and Pilates studios, two treatment rooms and a community seminar room, yet the centre felt intimate. When we arrived, we were told to take off our shoes (how 'new age') and waited anxiously for our class to commence.
Treatment
We took our yoga class in a small yoga studio and with the UK's leading teacher of Budokon, Ryan Carldon- Miah leading the way, we felt we were in pretty capable hands.
We started off with some simple stretches, touching our toes and lengthening our bodies. As it was an open day class, Ryan then decided to show us a variety of Budokon postures and movements to give us an overview of the discipline. He stressed that a normal class would not be like this.
As Budokon is a unique mixture of martial arts, yoga and meditation and is fairly new to the UK, there was a lot of ground to cover. We started off with yoga, practising various yoga stances. Some were familiar, like the downward dog, but others were completely new to me.
Having already practised Hatha Yoga, I thought this experience would help me out- but unfortunately I soon discovered I was still a rookie at Yoga and there was much more to learn.
Yoga Whilst yoga involves static positions, Budokon is a fusion of yoga and martial arts which adds dynamic and flowing movements between stances.
Warning, this yoga is not for the fainthearted, as we soon discovered when Ryan started to demonstrate the moves he intended us to practice- cue my jaw hitting the floor in amazement. One particular movement that sticks in my head is the dancing dog. We all started off in the downward facing dog stance, (feet and hands on the floor, body forming an upward facing V), then lifted one arm and turned sideways, supporting our whole body with just the one arm...my poor wrists!
As the class went on, the stances did get more difficult and dynamic, with the movements flowing into each other. When we were struggling (which we unfortunately found ourselves doing a lot), Ryan came across to help and encourage us to carry out the moves. Towards the end of the 90 minute session, we began to incorporate some of the martial arts into our yoga stances. For instance, we rolled up onto our backs, legs outstretched, and then came up to a crouching position in one swift movement.
Martial Arts The martial arts part of the session was my favourite; a chance to reveal your childlike self. We leapt around like leopards and then crawled across our mats like gorillas- embarrassing for some, but the child in me loved it. Adopting animal postures forms a key part of Budokon, with the aim being to help the body to unearth its natural, instinctive and functional strength; a strength present since (and move prominently displayed during) childhood.
I also found the punching in the air- martial arts style- strangely liberating and empowering, so would definitely like to do Budoken again if they included more of this.
Meditation After all the leaping and holding your body in difficult positions that you didn't know even know were possible, we were asked to relax (and believe me, there was no hesitation there!) We ended the session with a little meditation, lying on our backs with our eyes closed whilst Ryan reading us a poem and I soon drifted off into tranquillity. Practising slowly breathing in and out and holding ourselves in the child pose, it was chance to relax the body and the mind.
Results
Afterwards I was left feeling rather exhausted (probably largely due to the one hour session helping me to burn up to 900 calories- more than in a spinning class of the same length), but strangely at the same time rejuvenated. My otherwise stiff body (having come straight from the office) was left feeling stretched and limber, especially in core areas that don't normally get tested during my day to day routine. It was only in the days after the class that I began to ache in places I didn't know existed!
When asked, if I would do it again, I think I would give it another go in a less intense beginners' class as it certainly was more exciting than Hatha Yoga, and I did quite enjoy the martial arts element.
To sum up my experience, I would warn those who do not exercise regularly to try something a little less stimulating and intense, like Hatha or Iyengar yoga, which are more gentle and better suited to beginners. As for those of you who want to be challenged and fancy a fresh breath of air in their exercise routine; go for it! But don't say I didn't warn you....