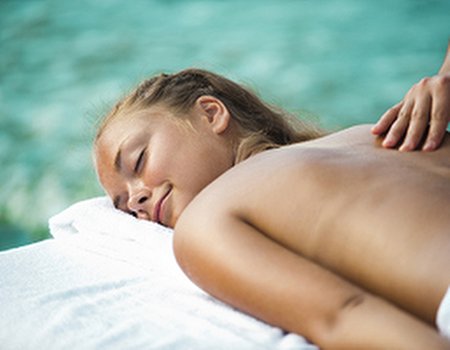 Belize lies at the crossroads between the Caribbean and Latin America. You can physically see the changes in people, architecture and landscape as you drive from the port of Belize City into the mountains beyond San Ignacio and the Guatemala border. Belize has long been known as the dive capital of the Americas, far fewer visitors have recognised the quality and uniqueness of its spa and wellness facilities. Yet a recent report by UK based Denzil Phillips International (www.denzil.com) believes Belize could become an important global player in the next five years. " This country has so much to offer in the field of wellness" states Phillips during a recent survey commissioned by Caribbean Export (CEDA) and the Caribbean Spa and Wellness Association (CSWA).
"Where else can you have a genuine Garafuna massage on a water front pier in the morning and a Mayan body rub deep in a jungle spa in the afternoon. This is the only country in the region that can simultaneously draw upon both its Ameroindian and Caribbean heritage for inspiration as well as benefit from close technical and economic ties with its neighbours in Mexico and the Gulf States of America. The pristine reefs and virgin forests offer endless opportunities for local natural treatment therapies while its spectacular coastal and mountain scenery provide an ideal setting for spa designers to create highly original facilities for the increasingly discerning international wellness customers."
Belize has something to offer everyone interested in wellness. From the rich and famous who want impeccable service in private luxury and secluded surroundings to the back pack traveller wanting a course of yoga and meditation by the beach. And let us not forget the young professionals living in Belize who want to keep fit and get professional beauty treatments at well run day spas.
The Lodge at Chaa Creek
The Lodge at Chaa Creek, set in the foothills of the Maya mountains on the banks of the Macal River, has long been setting global standards for eco-tourism, what with its home grown food, environmentally friendly local architecture and array of outdoor activities set in magnificent rolling hills. It hence comes as no surprise that its owners set similar standards for its spa and wellness programme. Its longstanding links with neighboring Ix Chel Farm which runs courses in traditional healing ensure that Chaa Creeks therapists not only work to high professional standards but also incorporate local healing practices into their treatment therapies.
Maruba Resorts Jungle Spa
Pioneers in this respect are undoubtedly Maruba Resorts Jungle Spa, the country's first destination spa situated deep in the jungle some one and half hours from Belize City along the old Northern Highway to Mexico and USA. Maruba can be justly proud that all their staff come from the surrounding neighbourhood, having been trained by the resort owners to the highest international standards. Maruba's team combines the best of European and US therapy with local traditional skills. Their menu includes their signature "mystic jungle mood mud treatment" using therapeutic muds found surrounding coastal mangrove forests. Maruba also uses other local raw materials including aromatic incense, massage oils and medicinal plants.
Ambergris Caye
Ambergris Caye is undoubtedly the wellness capital of Belize. So named because English pirates living here collected Ambergris, an extremely valuable ancient perfume product exuded by whales residing in these waters. This quite coastal resort, an hour's ride by high speed boat from the capital, along with the neighbouring Caye Caulker, is home to more than 20 spa and wellness operations of all shapes and sizes. All without exception pay homage to the magnificent clear blue waters that surround them. Captain Morgan's Sundari Spa is a perfect example of how spas here maximise the benefits of the beach and the sea and at the same time offer first class professional spa treatments, often using local muds, salts and seaweeds. The much more humble but equally spectacular Ocean Essence Day spa is situated actually on a jetty above the water so that customers smell and see the ocean while they obtain treatment. For those preferring yoga and meditation, the Ak'bol Retreat offers professional beach side courses run by top professionals from all over the world.
Placencia
If Ambergris Caye is the present wellness capital of Belize, Placencia could well be the place of the future, especially when the new international airport is opened. "Discovered" in the 1990s by people like Risa and Bob Frackman and U.S film producer Francis Ford Coppola, Placencia has grown into a major tourist centre with some high class resort and day spas - including the Sea Spa at Robert's Grove, Sunset Spa at Turtle Inn and Shiriphon Thai day spa in the charming historic Placencia town centre.
Other spas
For a completely different experience, the recently opened San Ignacio Resort Hotel in the hills outside San Ignacio town offers the opportunity of tailor made treatments in the privacy of your luxury suite, along with a menu of specially created wellness foods and drinks using locally grown ingredients. Not far away is Ford Coppola's second Belizian resort at Blancaneaux Lodge, whose waterfall spa includes solar heated pools, papaya and honey and banana body rubs and of course spectacular views. Hidden Valley Inn situated in the middle of Mountain Pine Ridge Forest Reserve also in Cayo province has made yoga the centre of its wellness offering.