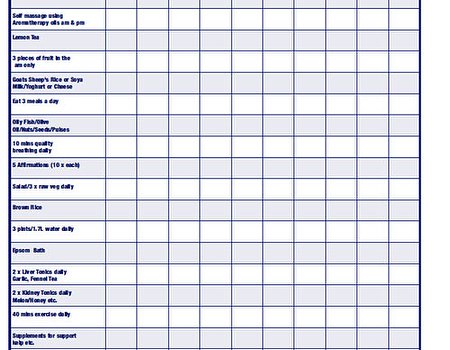 I am currently on a 28 day cleansing programme and boy do I feel better for it. I'd like to share some advice for you to get started and am happy to hear from anybody who has other tips, experience and advice to share or if you just want some advice. Use the chart as a daily guide. Good luck!
Do Not Detox if you are currently:
Pregnant
Breastfeeding
Undergoing medical treatment for an illness
Recovering from serious illness
Taking prescribed medical drugs
Diabetic
Always consult you doctor if you are in any doubt as to whether a detox programme is suitable for you.
Benefits you will experience from detoxing
More energy
Glowing skin all over your body
Weight loss
Clearer thinking
Better thresholds for coping with stress
Reduced or no cellulite
More efficient absorption of nutrients from food
Better body tone
Improved overall well-being and fitness
More efficient circulation of blood and lymph
Strengthening of the immune system
More relaxed
Self fulfilled and greater self confidence
Do...
Use supplements alongside diet and exercise to maximise the benefits of your efforts e.g. MSM, Milk Thistle, Kelp, Psyllium husks, colon cleansing tablets (these are not laxatives), activated charcoal, Vitamin C etc.
Buy organic fruit and vegetables and honey etc when you can
Refrain from smoking anything or drinking any alcohol for the period of the detox.
Replace coffee and black tea with herbal alternatives like de-caf chicory alternatives for coffee, green tea, dandelion tea or pre blended detox teas instead of black tea.
Find a friend or colleague to do it with you for support and encouragement and ask your friends and family to help you stay on track
Read articles for motivation and to increase your knowledge and understanding of detoxing.
Be kind to yourself and if you succumb to temptation, don't be too hard on yourself. You are not alone, forgive yourself quickly and try again!
Some possible side effects
Headache
Tiredness/Lethargy
Bad breath
Fuzzy tongue
Constipation/loose bowels
Feeling Sick
Irritability
Spots
Coloured Urine
Runny nose, eyes or sinus congestion.
They all sound like fun don't they? Be assured that these symptoms do not always occur and are dependent on how strictly you stick to the detox and how many toxins you have in your system to be removed. In my experience the side effects seem to occur in the first week of the detox as the body adjusts to a healthier diet, and the liver and kidneys are working over time to breakdown and excrete the toxins, fats etc.
If you experience the above in a mild form, drink masses of still mineral water (not from the tap if you can at all help it at all).
Useful Information and Tips
Avoid – Avocados, bananas, bread with wheat flour, caffeine, chocolate, all dairy products, salt, sugar and peanuts.
Preparation is essential so make sure you have the things that you will need ready before you start: Skin Brush, Exfoliating salt/lotion, Loofah/Mitt, moisturising creams, massage oil, aromatherapy oils (Geranium + Rosemary in equal drops is recommended for baths & massage), steamer, juicer or food blender, somewhere to exercise and all the right foods.
Liver tonics - You must have two every day, choose from:
A bunch of black grapes
A glass of carrot & beetroot juice
Use a clove of garlic when cooking or take a high strength odourless tablet.
Drink 2 cups of fennel or dandelion tea.
Kidney Tonics - You must have two every day, choose from:
A cup of hot water with honey
Cranberry juice.
Half a medium melon