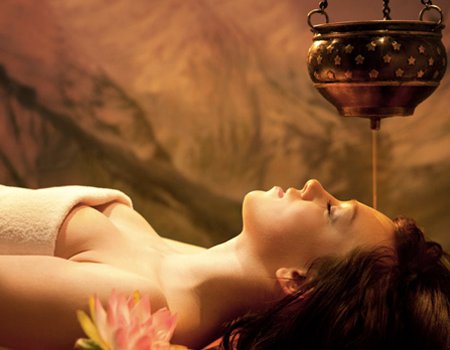 Having previously floated out of Ayurveda Pura after a marma abhyanga Ayurveda energising massage, I was excited to return to the East London spa to experience their shirodhara treatment. The name shirodhara comes from the Sanskrit words shiro (head) and dhara (flow) and when you learn what the treatment involves, it all makes sense. Shirodhara is an Ayurvedic therapy, which involves the rhythmic pouring and flow of liquid onto the forehead. The liquid is usually oil, but in traditional Ayurveda can be made up of milk, buttermilk, coconut water, or even plain water, depending on what is being treated.
The list of conditions that shirodhara can be used to treat is long and varied; including headaches, migraine, neuralgia, sinusitis, allergies, eye disorders, nervous system disorders, insomnia, anxiety, depression, psoriasis and stress - the latter of which I was hoping to address with my treatment. It's thought of as a purifying and rejuvenating therapy with extremely soothing properties, and is based on the principle that the constant stimulus of the warm oil on the head brings a healthy blood supply to the brain. It's also been shown that with successive shirodhara treatments, people are able to make lifestyle changes – such as stopping smoking – more easily due to decreased stress levels.
There is evidence to back up such claims, too. A Japanese study on the effects of shirodhara revealed that subjects showed deep restfulness with less anxiety, measured accurately by EEG and ECG equipment and also the monitoring of blood pressure, heart rate and carbon dioxide excretion. The physiological changes experienced during shirodhara were shown to be similar to those caused by meditation, falling somewhere between a person's sleeping and awake states.
I had read that shirodhara is best performed in the morning, so one slightly grey day last year, I had breakfast and headed to Ayurveda Pura. I'm not going to deny it, at the time of my visit, my life had become quite stressful. My usual cool as a cucumber temperament had completely gone out the window and life was so full of challenges, trials and tribulations that even the smallest of things would set me off.
The shirodhara treatment at Ayurveda Pura was an extremely tranquil experience, but to be honest I don't actually remember that much about the ins and outs of the actual treatment. I completely zoned out, vaguely aware of the oil rhythmically dripping on my 'third eye'. I drifted in and out of consciousness, not thinking about anything in particular, and my previously buzzing mind was as still throughout the entire treatment.
When I stepped out of the venue, I once again had that floating, feel-good feeling and my mind remained quiet for at least a few hours post-treatment. My stress levels were also contained for the next couple of weeks, something of a miracle considering what I was going through at the time.
The shirodhara treatment at Ayurveda Pura lasts an hour and costs £65. Visit their venue page to book online now.