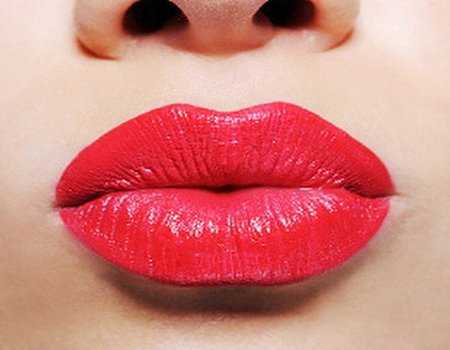 In the beauty battle against the changing seasons, dry, sore lips are an almost universal hindrance.
With models on the spring catwalks flaunting full, matte lipstick-clad pouts, it's time to stop hiding any flaky flaws that may have been lurking underneath layers of gloss this winter and to get those lips of yours into tip top shape for this season's colours.
Do not...
Lick your lips - When saliva left on your lips evaporates, it takes natural moisture from within the skin's layers with it. Digestive enzymes also start to break down the top protective layer working oh-so-hard to keep your pout plump, so try not to give in to dryness-fuelled lip smacking.
Rely on lip balms and petroleum jelly - Katy Perry may be a fan of the cherry varieties, but unfortunately many products on the market only provide temporary relief from chapped lips. Their formulas create a temporary barrier against the elements and manage to stop further moisture escaping, but they also seal moisture out so it can't be absorbed. Alexis Wolfer, founder of The Beauty Bean suggests slicing a cucumber and putting slices on your lips if you're suffering at home. "The water in the cucumber helps soothe and replenish your cracked lips," she says.
Do...
Exfoliate - Exfoliating the skin on your lips regularly is hugely important, just as it is with any other part of your body. A quick way to create a safe scrub at home is to mix brown sugar with water, and rub it onto your lips gently. Using a toothbrush and softly rubbing it in circles across your lips - working from corners of the mouth to the middle of your lips - will also work. Just remember to rinse your toothbrush thoroughly afterwards!
Moisturise - Using a lip moisturizer is also important. It is best to apply products straight after a bath, as it locks in moisture from the water and keeps everything extra hydrated. Rubbing honey or virgin olive oil into your lips is also a cheap alternative to moisturizers.
Drink plenty of H2O - Most people know drinking water throughout the day is good for your skin, but it also improves the condition of your lips as dehydration is a lead cause of lip dryness.
Eat foods rich in vitamins A, B, C B2 and E - Vitamin deficiencies in these groups can sometimes be the culprit when it comes to chapped lips. If you're a long-term sufferer, give your diet an overhaul and be sure to include sweet potatoes and spices such as paprika and cayenne (rich in vitamin A), plenty of fish (packed with vitamins B1, B6 and B12), dry roasted soy beans and cheese (great full of vitamin B2), kiwi and oranges (well known sources of C) and lastly sunflower seeds and spinach (which both contain vitamin E).
Once your lips are looking lovely, you can begin to think about adorning them some of spring's most flattering matte shades:
Rouge lips are back in this season and were seen on the Dolce & Gabbana, Prada and Missoni runways. To prevent colour bleed, use Nars Velvet Matte Lip Pencil in 'Dragon Girl' to outline the outermost part of your lips (accentuating them to the biggest and fullest if you're feeling brave).
Also on trend are bright pink lips paired with dewy, natural looking skin. Mac's 'Candy Yum Yum' is perfect for pulling off this look without looking chalky.
If you really want to make a statement, draw attention to your lips with a bold matte black. Think high fashion Moschino rather than goth, and try Barry M's lip paint number 37 with a dusting of sooty eye shadow pigment.