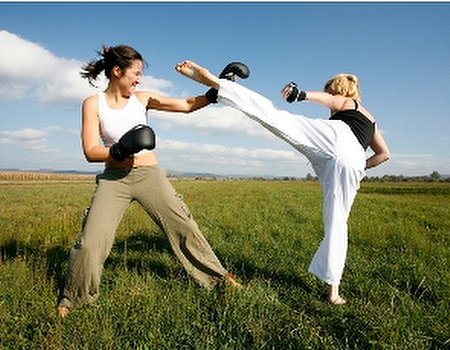 It seems that Russell Brand's less than athletic frame has finally got the better of him, as he was spotted getting a Krav Maga master class this week. Perhaps he wanted to beef up his skinny arms, or maybe he's learning a couple of moves in case he has to defend himself against his fiery fiancé Katy Perry. The 34 year old comedian was seen sporting some very becoming burgundy shorts whilst having what looked like a gruelling run through of some Krav Maga techniques.
For those of you without an A to Z of Hollywood gym class crazes, Krav Maga is a form of martial arts derived from Israel and is created to deal with real life combat situations. With this in mind, a typical course will show you how to defend yourself using conventional methods, as well as using the 'dirty tactics' that you wouldn't think twice about resorting to if you were attacked in reality. There are none of those fancy 'teach 'em a lesson' moves you see in kung fu movies; it's just deflect, disable and run. The discipline takes into account possibilities such as attacks from an armed or unarmed assailant, from behind, from a sitting position and from someone bigger than you. We're guessing the last one will come in pretty handy for Russell Brand.
Whilst it'd be nice never to need such self defence techniques, life isn't always sweetness and light: it's always better to be safe than sorry. But if you don't fancy doing a Russell and performing your new found ninja moves in paparazzi proximity, have a quick look on Wahanda to find somewhere near you offering Krav Maga.