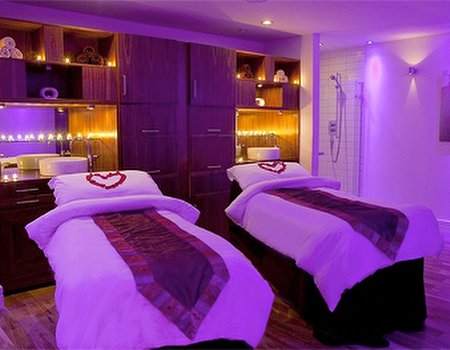 Get excited people, everyone's favourite holiday is coming up this Thursday 22nd April. That's right, it's Earth Day! Okay, so you may be among the hoards of us that had never heard of this day before, but down at http://www.earthday.org/ they take loving the planet very seriously. And at Wahanda, so do we. Although we also believe in loving yourself a little bit too. We've discovered that the concepts of treating yourself and helping the planet don't have to be mutually exclusive, as the new craze of eco spas has made guilt-free pampering possible.
So if getting down and dirty, planting trees and chaining yourself to Gordon Brown's house in a mucky protest isn't really your thing, why not show your appreciation for the earth in a slightly more rewarding manner? Check out our top three eco spas for alternative ways to help the world:
The Titanic Spa was around long before the rest of us jumped on the low-emissions modified wagon, and were the UK's first Eco-Spa. They've really gone that extra mile to create a unique experience for their visitors, and boast being situated within a traditional textile mill. Their emphasis on a holistic approach to treatments combined with a range of products from Decléor, Elemis, Carita and ghd Spa, creates a guilt free rejuvenating experience that cleanses both body and soul.
Treatment to try: One Night Fabulous Friday Spa Break at Titanic Spa
Napiers, Edinburgh
Respected botanist and herbalist Duncan Napier believed in combining the finer things in life with being kind to planet; which is why he set up a foundation of traditional natural remedies dedicated to enhancing your health and well being. His legacy, Napiers, has grown to be one of the leading forces in eco friendly spas, and they offer a huge range of products and treatments to get you feeling good again. Why not indulge in some of their holistic therapies, and enjoy some carbon friendly treatments?
Treatment to try: Stone Massage Therapy
Tilsworth Clinic Group, Beaconsfield
The Tilsworth Clinic believe that because everyone is individual, their spa deal should reflect their personality, which is exactly why they tailor each package to meet the needs of their client. This includes those who love to watch their carbon footprint, which means you can partake in a number of wholesome environment friendly activities.
Treatment to try: Deep Tissue Massage
It's not often you have a legitimate excuse to go to a spa, so make the most of it! Ensure you meet your earth and self-loving quota this Earth Day, and do your bit for the world by visiting one of our top rated eco spas. Remember to come back and write a review too – for every review you write on Wahanda, we donate £1 to charity: water!