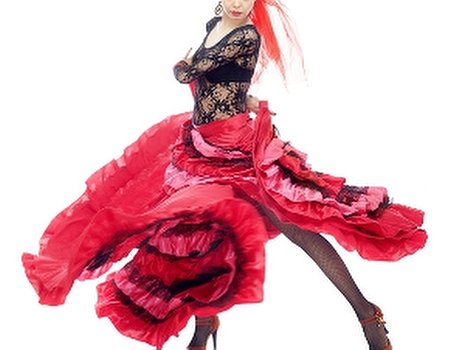 With the plethora of great dance movies out there, directors are having to step up (see what we did there?) to the challenge and create new ways of pulling in the crowds. Well award winning directing duo Max & Dania have done just that, and combined dance with the latest trend for three dimensional films to create Street Dance 3D... Oh yes, you heard right: 3D dancing.
The premise of the story is your classic ballet troupe meets street dance crew in a two hour battle of interests - we're sure they can find something to natter about over a quick energy drink. Featuring acts such as Diversity and last year's Britain's Got Talent winner George Sampson, this is set to be one star-studded film full of feel good clichés and no doubt a smattering of 'different sides of the road' love affairs.
Now everyone loves a bit of a boogie, and watching these kids prancing around making it look easy is sure to get those feet tapping; but if the extent of your dance moves is a shoddily attempted robot, have a look at some golden oldies in the dance movie scene to get some inspiration.
Save the Last Dance - Ballet
Ahh you've gotta love an old school Hollywood stereotype. This movie dispels the myth that white middle class girls can't dance street, and quite rightly too; so whatever your gender, race or socio-economic status, grab a pair of ballet shoes and get working on those plies, double arabesques and what not. Check out some courses near you – you'll be prancing around to Swan Lake in no time!
Step Up – Street Dance
If you don't think you're quite up to the standards it takes to combine modern with street dance a la Step Up, why not take it one at a time? If you're not down with your street lingo, take a few lessons and start working on your locking, popping, breaking and krumping before attempting that 360 head spin.
Fame – A Bit of Everything
Everyone's favourite feel good movie blends in a whole host of dancing styles with compulsory leg warmers. If you fancy yourself as a bit of a performer, why not go to one of the country's top dance studios and put yourself through your paces. The City Academy is a renowned venue that understands not all of us are natural born dancers; whether you're interested in ballroom, jazz, tap, modern, there's a course at the Academy for you.
If we have inspired you to hunt out your jazz shoes, check out what other types of dancing are best for keeping fit. Whilst you may not be up to 'Street Dance' standards, we're sure you will have fun trying! Watch out for some great spotlight offers to kick start your new found interest in dancing too – we've got a few that'll have you toe-tapping in no time…