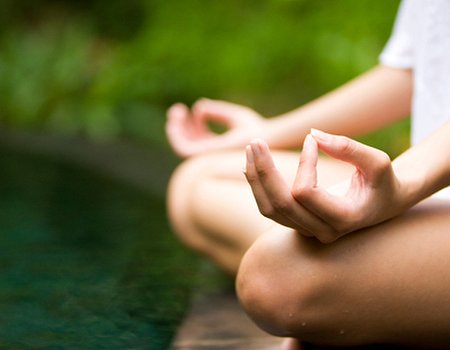 If you think meditation is all about sitting cross-legged on the top of a mountain in linen, think again. You can enjoy meditation anywhere, even on the number 39 bus. We visited Julie Smith at Nature Meditations to learn how to focus and manage our stress.
The Therapist
Nature Meditations is lead by therapist Julie Smith, who has had plenty of experience meditating in the most exotic parts of the world, including a 10-day course at Dhamma Gir in Igatpuri, India. Her approach to meditation is quite unique as she focuses on helping busy people who need to relax and manage their stress better. We arrived quite frazzled from the tube journey, but Julie put us at ease instantly with her warm welcome. We learnt about her experiences with stress and then with meditation courses, which made us realise more that even the most tired of city workers can benefit from meditation.
The room was set out with a friendly group focus, including cushions and mats at the front and chairs behind, giving each person plenty of room to feel there was space but to also feel together as a group.
The Treatment
The session began by each person saying a little bit about themselves and their experiences with meditation. The groups are small so we didn't feel nervous, and as each person had something interesting to say we all benefited greatly from the discussion. Then Julie went on to begin a short starter meditation, where she taught us to breathe in positive thoughts and breathe out all our negative feelings. We thought of a positive word or picture as we breathed in and imagined all our bad thoughts leaving our bodies in a cloud of thick, black smoke.
Then we learnt more about the different types of meditation, including Mindfulness and Chakra meditations, and how they can benefit your everyday life. Julie taught us some special breathing techniques to do at work when we need to take some time out and we continued with the second meditation. This time we focused on the small section underneath our nose and above our top lip, meditating within that very small area. Julie explained that we need to train our mind to be aware of distractions and thoughts, but to bring our focus back to that very small area in order to clear our mind. She explained that our minds are conditioned to complete thought processes (which made us feel a bit better about thinking of dinner during the session!), but that we would learn how to focus better.
The Result
We arrived a little bit stressed and apprehensive about what we were about to learn but left with a clear mind, a lighter bounce and a pretty positive outlook on life. Our minds are often pre-occupied with distractions and unnecessary thoughts, so we were very pleased to learn some anti-stress tips and everyday advice on how to meditate on-the-go. Julie's approachable and gentle teaching helped us feel completely clear once the second meditation had finished, so much so we even felt light and tingling before a rush of clarity right at the end. We skipped off to the tube, looking forward to booking in for another session and practicing our new-found techniques.