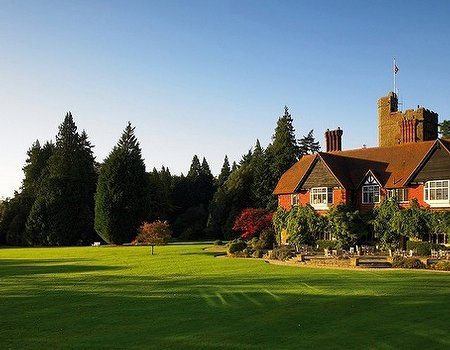 We at Wahanda love all things relaxing, especially those that give us a chance to escape from the bustle of busy Central London. So we bundled ourselves off to the beautiful countryside in Surrey to visit Grayshott Spa near Hindhead, and left the hectic Waterloo station behind.
Grayshott is the Vogue of spas - it's luxurious, known for its famous customers, and everyone who is anyone wants to be there. Our cab driver told us he'd picked up many an indulged customer and was more than happy to drop a few celeb names that had visited.
The Hotel
The surrounding countryside immediately makes you feel like you're about to take a relaxing holiday and as we drove up to the building we knew we were in for a treat. Our heavy luggage was taken off our tired shoulders and we were given a tour of the building so that we knew where everything was. Once we checked into our rooms it was time for dinner in the Dining Room, which made us feel like very important people indeed.
The food is healthy and nutritious as Grayshott take their food every bit as seriously as the relaxation and exercise. We enjoyed a delicious starter of feta and cherry tomatoes, a main of asparagus and pea risotto, and a tasty fruit salad for dessert. The portions aren't overly generous, but Grayshott keep a portion control called the Grayshott Healthy Eating Plate, which identifies the amounts of food recommended to maintain a healthy diet - rest assured they're all about looking after you.
Once dinner had filled us up, we retired to our room and spent the next half an hour gawping at the size of the bath, the bed and our two, yes two, sinks. Feeling like Christmas had come early we sank into the soft bed and fell immediately asleep, dreaming of our relaxing day to come in the spa.
The Spa
After a beautiful nights sleep, we were more than happy to spend a relaxing day in the spa. Slipping into our robe and slippers, we made our way down to breakfast and tucked into some toast and tea before heading off to find the spa facilities. Once we'd checked our treatment time, we were shown where to go for the facilities and headed straight for the sauna. As we sat thinking about all the work we were leaving behind we completely relaxed and let the sauna work its magic on our pores, giving our skin a well-needed detox from the nasty impurities that we'd picked up in the city. Then we tried out the steam room, which helped our noses completely open and let the steam right in to delve deep and clear our lungs.
After a few minutes steam we headed off to the showers and enjoyed washing off all the sweat with herbal-smelling Aromatherapy Associates gel and shampoo, then walked through the peaceful hallways to the swimming pools. A quick dip later we were feeling very refreshed and already prepared to take on anything the world threw at us, but decided to spend the next half hour curled up in the relaxation room under a fluffy duvet. We didn't want to leave the beds as they were so comfortable and the perfect place to unwind after a treatment with a cold glass of water. The facilities were close together and weren't too crowded, which meant we were left to relax without having to wait for a sauna to become available or a pool to empty, exactly the thing you need when relaxation is at the top of your agenda.
The Treatment
After a relaxing morning pottering about the facilities without a care in the world, we were very ready to be indulged with our De-Stress Massage. Our therapist made us feel instantly relaxed, leading us to a dimly lit and aroma-filled treatment room where we made ourselves comfortable on the bed. Starting with our back, the therapist began to soothe all our aches and pains by massaging with special oils right from the base of our back all the way up to our neck. We could feel our muscles gently easing out of their knots and began drifting off to sleep in the most comfortable room we think we've ever been in.
After massaging our back, the therapist moved our arms to massage our shoulders thoroughly and really dig deep into our tired muscles. Then we turned over to get massaged on the tops of our shoulders and neck, which is where we found most of the tension was gathered - we can thank sitting in front of the computers for that!
After our treatment we were left to come back down to earth with a glass of water and some relaxing music, whilst our therapist discussed with us the best ways to combat our stress. We have to admit we felt completely rejuvenated, and the oils made our skin feel silky smooth.
The Results
After such a hectic week at work, we really enjoyed spending a little time away from the bustle of the city to relax and unwind in the beautiful countryside. Any stress we felt when we arrived was instantly washed away and we were left to rejuvenate at our own pace, leaving all our troubles at the door.
Everything was top notch, from the lovely staff and fantastic food to the relaxing facilities and even more relaxing treatments – meaning Grayshott Spa sent us soaring into bliss and disappointed to leave it all behind.
Perfect for a spa break or even a spa day, Grayshott Spa is ideal as the place to go for an uninterrupted break from the hustle and bustle of everyday life. A sanctuary in the pretty Surrey countryside, you'll not want to leave after being the most relaxed you've ever been - we're already booking our next visit!