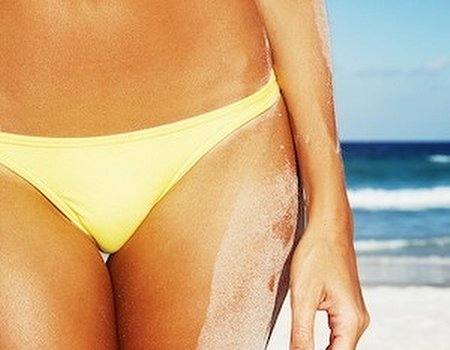 After spending most of the summer hiding our pale legs under opaque tights and skinny jeans, we were adamant our pins would get a look in before the winter weather set in – so we decided to try out a sultry spray tan before the summer sun said its goodbyes.
The Venue
On a bustling street very close to Oxford Circus, Scin Central London is handily located to nip in for a treatment during your lunch break or after work. The salon itself feels like a haven, but without the annoying whale music. The big glass window allowed us to view the busy street and people hurrying by whilst we relaxed in the calm. We were led downstairs to fill out our forms with a glass of cool water, and relaxed on a big green sofa outside the treatment rooms.
The Treatment
We decided to go for gold and get the pre-exfoliation treatment too so our skin was fully prepped for the spray tan. Our therapist led us to a treatment room with a shower, then left us to get undressed and relax under a towel. On went the salts to scrub away our dead cells, starting with the legs and moving up to the back and arms, then stomach and chest. The salts were then gently rubbed away with warm mitts to leave our skin feeling completely refreshed.
After a quick shower we were handed some rather attractive paper pants and a shower cap to protect our hair. Then we put on our robe and moved onto the next treatment room for the tan to begin.
It was our first spray tan so the therapist explained all the after-care instructions, rubbed our palms and soles with a cream so the tan wouldn't stick in awkward places, and checked we'd put our shower cap on properly (she didn't want us to leave with a line on our forehead!). Stood in the booth, we didn't mind the paper pants so much after a while and were excited to see what our tan looked like.
The Result
After the tan had been applied, we were left to let it dry for about 20 minutes before dressing and heading back upstairs. We were a bit worried after being so pale for while we'd look a bit orange, but our friends commented on our 'healthy glow', which made us very happy indeed. The next day we showed off our bronzed pins in a short skirt, feeling very confident for the rest of the summer.