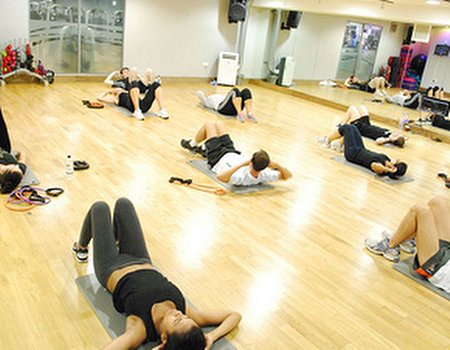 I'll admit it, I'm a couch potato. Give me a sofa and TV any day and I'm happy. I did manage a 5k charity race about eight years ago, but since then it's all been downhill. This summer I decided it's time to get my act together, started running and kept it up for about two weeks. Reluctant to join a gym, and with an image of Jane Fonda in my mind, I wondered if a fitness class might be more my thing. I decided to check out the Pay As You Go studio classes at The Bankside Health Club which are available to non members.
The gym
Situated behind the Tate Modern, a five minute stroll from Blackfriars station, The Bankside Health Club is a gym, fitness studio and beauty salon rolled into one. As I made my way down to the basement of the Blue Fin Building I was a little daunted by the prospect of working out next to gym bunnies and fitness fanatics, but these thoughts were quickly extinguished as there is a great energy about the place and nothing to be intimidated by.
I was greeted by a friendly receptionist who told me the club offers 150 studio classes (including Les Mills – the worldwide fitness class that teaches participants in 80 countries the same routine so you can drop in on a class wherever you are). I decided on the (core strengthening) CXWorx class. I was given a a quick tour of the club's facilities including a chill out area, gym, beauty salon, spin studio, and Power Plate area and shown to the changing rooms. Inside I was delighted to find a steam room and sauna, iron and, best of all, hair straighteners.
The class
I headed to class which, due to the warm weather, was smaller than usual - great news for a beginner like me. Jodie (the instructor) was really welcoming and had more than enough energy to keep us all boosted throughout the turbo 30 minutes. After a quick check for injuries we were instructed to collect a mat, weight and resistance band. Having never used this much apparatus at once I wondered what was in store and reached for some beginner-friendly weights and resistance.
All set with our equipment, the music started pumping and the class began. At first I was a little conscious of the big windows looking out onto the gym (it felt a bit like a fish bowl), but when the class got in full swing I forgot all this - it's hard to care when attempting a rotating plank for the first time.
After a series of squats, weights, planks and a few crazy moves with the resistance bands (getting a little tied up in the process) the class was over. I felt like I'd had a real workout and the class rewarded itself with a round of applause - a combination of achievement and relief. Jodie stayed around to answer any fitness questions we had and then I was off for a well deserved rest.
The Results
While the 6 pack didn't instantly materialise (if only) I felt I'd had a thorough workout, which really surprised me given the class was only 30 minutes. One day later, muscles I didn't even know existed were aching but I wasn't put off and am genuinely looking forward to going back. Toned tummy, you will be mine…