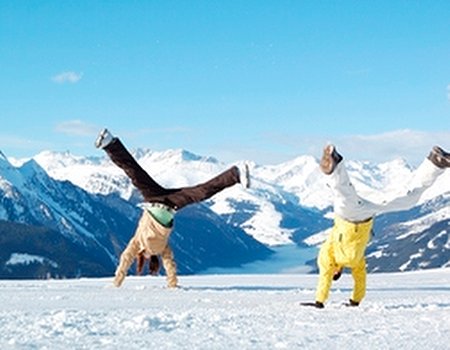 You've been traipsing to work in your wellies, with a tight waistband and suffering from the back-to-work blues. Oh, the joys of January. The weather's bad, the nights are long and your Christmas overspending is evident with the bills which seem to be accumulating. If you've been feeling down this month because the resolutions have gone out the window and sunshine seems nothing but a distant memory, be comforted by the fact many of us are feeling the same.
This winter misery looks set to peak on Monday, as the 18th January has been pinpointed as the worst day of the year. The date has been officially designated this accolade by a psychologist based on a mathematical formula that takes into account a number of 'depressing' factors. Cliff Arnalls, a part-time tutor at Cardiff University, worked out that people are most likely to get the blues in the final full week of January because of the combination of bad weather, Christmas debts and broken New Year resolutions.
To overcome the Monday Blues, we're normally advised to think positively. Northampton therapist Jenny Mullan believes that this isn't enough and is offering a free teleseminar for those who want to learn how to achieve a calmer, happier and more successful life. 'Beating the blues' on that dreaded Monday in January usually involves one of two things; staying in bed and watching Jeremy Kyle or the method of catching yourself thinking negative thoughts, and replacing them with positive ones. Yet with the average person having between fifty and sixty thousand thoughts a day, and 90% of those are negative, this can become an exhausting, if not impossible, task.
Jenny hopes to educate people and offer life coaching on how to move beyond just positive thinking by hosting a number of free 90 minute teleseminars, which focus on identifying and letting go underlying emotions, such as apathy, grief, anger or fear and therefore negative thoughts simply stop coming up in the first place. These teleseminars will focus on a psychology technique relatively unknown in the UK called The Sedona Method, which was established in the USA over thirty years ago by Lester Levenson, The Sedona Method is said to be a simple, powerful, easy to learn and easy to use way to let go of unwanted emotions and feelings in the moment.
Jenny explained that most of us become overly identified with our emotions, saying things like 'I am angry', rather than just 'I'm feeling angry'. Once we realise that emotions are only something we feel, and that even the most powerful ones are only temporary, it will open up the possibility of letting them go in the moment.
If January's getting you down and you need a pick me up, try the free question and answer calls which are presented by David Ellzey, worldwide instructor for The Sedona Method, in Glasgow from the 23rd to the 26th April and Brighton from the 30th April to the 2nd May 2010. You can see more details on the Sedonacoaching.co.uk website.