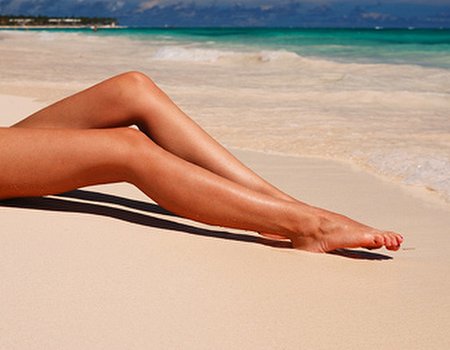 With images of wag perma-glows and wotsit-coloured D-listers ingrained in our memory, the winter tan is a path only the beauty brave would tread.
We would all love to live in a world where the pasty milk-bottle hue ruled supreme, but in reality a winter fake tan applied correctly can boost your complexion and your confidence. With the aim of the game to always look natural, the art of achieving that perfect winter tan is a tough nut to crack. For those wondering how to ward off that drab winter skin…wonder no more.
There'll be no need to give up your glamorous glow for the colder months if you follow my tantastic commandments.
The Tan Commandments
Thou shalt not overdo it
The look to aim for is definitely not 'bronzed Brazilian beauty'. This is a look best left to the summer months unless you want to appear Jordan-like orange next to your paler friends. The goal you should strive to achieve is 'warm and glowing'. It should be a subtle look that will leave others complimenting you on how well you look.
Thou shalt not shave or wax
….well, not just after or just before tanning anyway! Always shave at least a couple of hours before you tan and waxing should be done the day before. Never shave after you tan, or you'll remove your colour along with your hair!
Thou shalt exfoliate
Flaky skin is normally a result of the cold winter months, so a good exfoliation regime is a must. Sloughing away those dead skin cells will prime your skin for that perfect colour and will ensure far better results. Exfoliating the skin will stop the tan from grabbing onto any dry, rough skin and help it last longer.
Thou shall moisturise
Just as exfoliation is key to a great winter glow, so is moisturizing your skin. Always apply a perfume-free body lotion to the drier bits of your body such as your knees, elbows and feet. Fake tan applied to dry skin will make the tan look darker and therefore give you a streaky finish.
Thou shalt not forget the motto
Your key motto when it comes to a winter tan should be less is always more. It's important to remember that anyone sporting the obviously tanned skin in winter looks ridiculous, so act with a little decorum when it comes to fake tan, the au-naturel look is always best!
Thou shall only do certain bits
A full body tan is not really required in winter because you will be covered up in your winter woolies. Your face, arms and décolletage should be the main parts to focus on.
Thou shall not pick a shade darker than thous actual skin tone
To avoid being mocked as a "Ronseal-dipped horror" a la reality TV star Jodie Marsh, when applying your winter glow, remember to always stick to tanners that are designed for light to medium skin. In summer your skin has a natural base tan, without this base in the winter; any colour you will apply will stand out more.
Thou shalt not tan damp skin
Unless you want to commit a beauty taboo and give yourself a streaky finish, never apply fake tan to damp skin.
Thou shall take my time
Achieving a coveted tan is not a job you want to do when you're short on time. Whether you are visiting a salon or doing a D.I.Y tan at home, make sure you leave enough time to avoid cutting corners or rushing off before it's dry.
Thou shalt not forget to wear gloves
After all your hard work, don't let your tangoed hands give away your secret to a gorgeous glow. Protect your hands with a pair of gloves to avoid the tell-tale build up between the fingers and on the side of the hand. The gloves should be as tight as possible, as any loose creases in the fabric could cause smearing.
Tanning is part of our all-year-round beauty regime. It's about tailoring your tan so it's individual to you and right for the season and a winter tan is a great pick-me-up for the party season. So, just because the sun isn't shining, there's no excuse to be white as the season's snow and not maintain a light healthy tan.