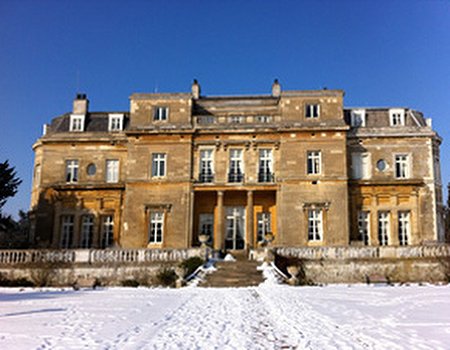 To fully understand and take in Luton Hoo you really need to go there. The majestic mansion sits in vast grounds that include a golf course, golf range, Country Club and conference facilities at Warren Weir, all spread across an estate which is over 1,000 acres in size. During our visit, these grounds were covered in white snow, which gave the place a feel of fairy tale land.
I could not get over the fact that despite it's closeness to London and really easy access by train (with Luton Parkway Station only a 5 minute taxi drive away) I was completely unaware of this gem until now! Make no mistake, this is a 5* venue. Everything has been thought of, every detail considered. The decor itself would be enough to inspire a book.
The Mansion House especially is embedded in history, and the attentive staff is always glad to lend a hand in putting together the pieces of the puzzle.
Furthermore, you will have tea in the same room where so many movies have been filmed, including Four Weddings and a Funeral.
So whether you are a spa goer or not, whether you are interested in golf or can't tell a club form the next, you should really not miss the opportunity to enjoy and appreciate this magnificent place. They organise afternoon teas that are as popular as the Ritz's (if not more!) with a 8 week waiting period. But boy, is it worth it!
Or you can make an escape from your busy life and just enjoy wonderful walks in the woodlands that surround the hotel, followed by a tasty meal at the Brasserie or the Wernher Restaurant. The choices and combinations are endless.
If you, however, are in to spa-ing as much as we are, then another kaleidoscope of opportunity will unveil. Saying that, I was quite conservative in my approach, going with the "5 Senses Body Signature Treatment".
Spa facilities include an indoor pool, a Vitality pool, saunarium, sauna, steam room and experience showers.
Even though we only spent a night at Luton Hoo, we made our stay stretch to almost two full days, and it felt like even longer as time has a special quality when you are in a place like this.
I would definitely love to go back and experience other seasons at Luton Hoo. Winter is already a winner!