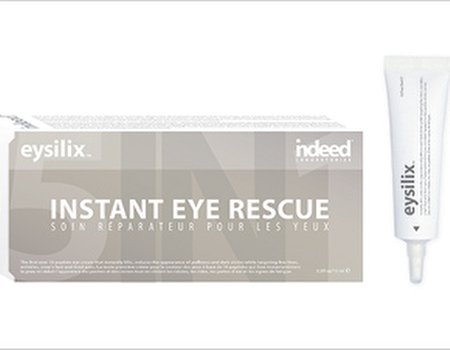 If you're a beauty buff then chances are you'll have heard of Indeed, the experts behind the likes of Nanoblur and Hydraluron; unlike a lot of other brands we know, they pick one area or one 'beauty wish' and create a single product that promises to fix it for us.
Nanoblur airbrushed the skin, Hydraluron started where moisturiser finished and now they've launched Eysilix, an all in one eye treatment.
Priding themselves on great results at low prices, the humble £24.99 tube is designed to do everything you might want for your eyes. Whether you've got dark circles, puffiness, or tell-tale wrinkles, the cream is designed to lift, illuminate and smooth the eye area to combat ageing and tiredness in one simple swoop.
Sound too good to be true? Possibly, but the folk at Indeed are quite into their science and have done a fair bit of research to come up with the perfect formula. Eysilix is the first eye treatment to contain ten active peptides (those little building blocks of protein that the body absorbs), making it pretty powerful stuff.
Whether all those peptides do as they promise remains to be seen (we'll be giving it a good try) but on first look, it's got our thumbs up; the cream has no fragrance and sinks in a little like a serum on the skin, leaving it soft and smooth and notably more hydrated.
Keep your eyes on Indeed Labs - we can't wait to see what's next…