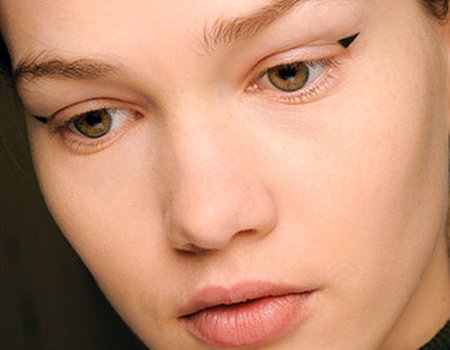 We may have just had a sneak peek at what's to come for Spring 2013 thanks to the ever glamorous London Fashion Week, but top of our to-do list for September is to get a grip of the trends that are oh-so-now.
Earlier in the year the AW12 fashion shows revealed plenty of makeup looks that we simply have to try out this season; graphic eyeliner, warm summer tones, and gem-like hues for a new take on the smokey eye.
Caroline Frazer, Celebrity Make Up Artist and Simple Skincare Expert says: "The AW12 fashion shows have provided us with a whole host of new makeup looks to be inspired by. Aquascutum and Mary Katrantzou took liner to a whole new level at LFW – Aquascutum opted for Japanese inspired, squared flicks with a graphic twist whilst Mary Katrantzou created drama with bold and exaggerated winged flicks around the eyes. Erdem on the other hand kept it simple with a floating feline flick straight from the socket line."
Yes, it's all about the eyes now that our tans are fading and we don't mind at all. Here's our pick of three ways to wake up the eyes and welcome in the new season - maybe we don't miss summer after all...
Edgy feline flicks
Edgy interpretations of our well-loved black liners were all over the catwalks, and you needn't be a great artist to pull them off. This twist on the classic flick takes feline eyes to a new dimension with high drama and minimalist makeup.
Caroline explains: "To achieve the minimal yet futuristic flick seen at Erdem, sweep a very thin stroke of liner across the eye socket and flick slightly upwards at the corner of each eye to create a small triangle."
Must-have product: Simple's Kind to Eyes Eye Makeup Corrector Pen is a godsend for these quirky looks, as you can tidy up any wobbles or even use it to create the gap between the lash line and the flick if you're not keen to draw it separately.
Colourful smokey eyes
This winter we won't be worrying about the lack of colour on our skin as we'll more than make up for it with our eyes. The shows were full of flamboyant jewel-like eyes with bare faces to really set them off; think peacock-like shades and brights on top of a deep, dark base.
World-class makeup artist Lisa Eldridge did a fabulous interpretation of the new smokey eye for Vogue China (see her video here at 1:40) - all you need is some good blending brushes, strong colours and lashings of mascara and gel eyeliner to really define the look.
Must-have product: For this trend you need bright shadows and lots of it - in her Vogue shoot Lisa used Barry M's Dazzle Dust which we're huge fans of at Wahanda HQ thanks to their broad spectrum of playful shades. Just be sure to use a tissue to cover your cheek as you apply, as this dust really does get everywhere.
Warm bronze tones
Don't ditch your summer bronzers just yet - another look that's hot this season is warm, fiery eyes as seen on Dries Van Noten and Narciso Rodriguez. Whether you opt for orange eyes, nails, cheeks or lips, warm up your skin tone this winter with a flash of sunset-like shading and you'll be perfectly on trend in no time.
Must-have product: We recently fell back in love with Benefit's Sun Beam, a golden highlighter that brightens complexions and adds a gorgeous glow to even the most sallow of skins - add a hint of it to your foundation for an all-over look of health and sunshine.
Photo by MAC Cosmetics