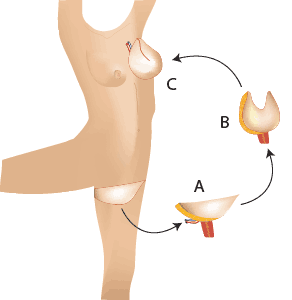 On the 4th of September, Anita Hazari, a consultant plastic surgeon at McIndoe Surgical Centre, became the first person to perform a TUG (transverse upper gracilis) Flap Breast Reconstruction in the South East.
Anita decided to use this procedure, which takes skin and fat from the inner thigh to recreate the breast, when a young patient presented herself to discuss her breast reconstruction options following a bilateral mastectomy.
The tummy is frequently used to reconstruct the breast after mastectomy and for many women this is a very suitable and preferred area to use, providing them with a tummy tuck and using the excess skin to create the new breast. However for women of a small build, who may not have the excess skin and fat needed to make a breast from their tummy, or they simply don't want the scars on their tummy, the inner thigh is a perfect solution.
The TUG flap reconstruction uses tissue from the inner portion of the upper thigh, just under the groin crease to reconstruct a natural-shaped breast. Patients get an "inner thigh lift" and the skin and fat, with the gracilis muscle, is detached from its blood supply in the thigh and re-attached to blood vessels in the chest.
Many women prefer the "natural" reconstruction (using tissue from their own body) as it makes for a more natural feeling breast. Once the reconstruction is finished there should be no more surgery needed, unlike an implant based reconstruction where the implant will need to be changed in 10 to 15 years time. The natural reconstruction will also age with you and if you put weight on, so will your new breast and vice versa.
McIndoe Surgical Centre's first patient to undergo this procedure is absolutely delighted with her results. Having had a double mastectomy at the age of 26, she coped admirably with prosthetics for four years, at which time she decided it was right for her to look into her other options.
She found Anita Hazari, and consultations began. "I am so pleased with my new breasts," she said. "It has restored my confidence and will allow me to carry on with my favourite sports, like swimming, without the worry."
If you would like a consultation at McIndoe Surgical Centre to discuss your options about breast reconstruction, head to their dedicated Wahanda profile page for more contact details.