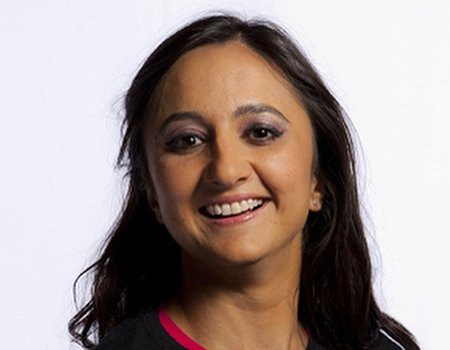 It's always fascinating finding out more about what health, beauty and fitness professionals do – so when we were given the chance to have a peek at dance instructor Shalini Bhalla's daily routine, we jumped at it. Founder of Just Jhoom! (www.justjhoom.co.uk), a dance school offering Bollywood-inspired fitness classes, Shalini also has training in folk dance and classical Indian dance. We caught up with her to learn about life as an instructor and find out about her love for soaps, Indian food and her cat, Tabasco...
How do you make sure you get the day off to a good start?
I start the day with some gentle stretching. In Just Jhoom! we have developed some Body Stablilising and Flexibility Exercises that are yoga-inspired, and I use those to get the body moving. Just Jhoom! requires a lot of hand gestures – and so I always incorporate hand exercises in my stretching session. 10 minutes is all I need. After a quick shower, I always give myself time to have breakfast – muesli or some brown toast with ordinary tea.
What does a typical working day consist of for you?
No two days are ever the same – which I absolutely love. I would find going into an office and doing a 9-5 job very difficult!
Most mornings, if I'm not teaching, I'll do as much admin and correspondence work as I can. This could be answering emails about the Just Jhoom! instructor training, writing copy for articles to magazines I contribute to, or just responding to queries about Just Jhoom! classes. Some mornings, I'm also tied up in meetings with staff or doing the dreaded accounts.
In the afternoons, I try to spend as much time as possible on choreography – developing new Just Jhoom! routines for me to teach in classes and for us to share with other Just Jhoom! instructors around the country. I spend a lot of time listening to Bollywood tracks to find suitable songs to Jhoom to.
I teach 10 Just Jhoom! classes a week – some in the morning and some in the evening – so those are dotted through my week. About twice a month I teach Just Jhoom! in schools, which takes up a whole day. Once a month I also train Just Jhoom! instructors.
I'm also a performer for the Just Jhoom! performance group – Va Va Jhoom – and so if we are working towards a performance or charity event, my time will be spent in rehearsals.
We spend a lot of time promoting Just Jhoom! – so about once a month I may be at a fitness convention or health show like the Vitality Show, talking about Just Jhoom! or doing workshops for the general public.
What do you find rewarding about your work?
I find teaching Just Jhoom! classes really rewarding. I know it changes lives – and that is an amazing feeling. I also find training new instructors gives me a real buzz. Sharing Just Jhoom! and seeing how it affects people's lives positively makes me want to keep going!
Is there anything you don't like about your job?
Yes – the constant emails. No matter how hard I try to empty my inbox – I can't!
What sort of food do you eat during a working day?
Breakfast is muesli or toast. I tend to keep lots of nuts and fruit around for snacking on during the day. Lunch is normally soup or a wrap or a salad. In the evening, we tend to eat a lot of chicken or fish with vegetables or salad. Very simple really! I don't enjoy cooking, although I do love eating. Once a week I treat myself to a takeaway curry – the full works. Occasionally, I make a full Indian meal from scratch – takes me ages!
What do you do to switch off and unwind after working hard?
I hate to admit this, but I am a soap addict! I have to get my dose of Emmerdale and Coronation Street everyday - it helps me switch off.
There is also nothing like curling up and watching a soppy, glitzy Bollywood film full of fabulous song and dance. However, I restrict this to the weekend, as they can be long – sometimes 3 hours.
Is there anything you wish you had more time for?
The business has taken over my life! I wish I had more time for my partner, Jeremy, friends and family and my cat Tabasco.
Well, we don't know about you, but we love the sound of Shalini's inspirational dance classes. If you fancy giving one a go, Shalini will be holding a free Just Jhoom! Fitness class in the Zest Fitness Park on Thursday at 2pm at this year's Vitality Show (London's Earls Court 2, 22nd-25th March - www.vitalitylive.co.uk). Why not go along and transform yourself into a Bollywood star for the afternoon...