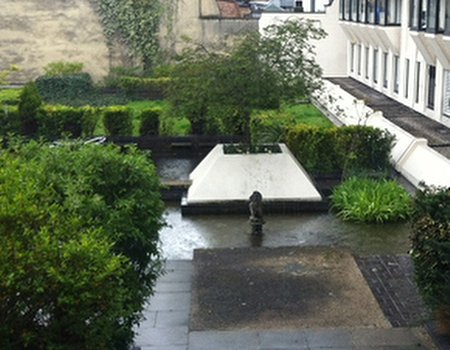 After a few demanding weeks at work, indulging in a bit of reflexology at The Central London Reflexology Centre on Harley Street was just what I needed to de-stress and relieve the tension within my body. Reflexology is a type of massage that uses specific trigger points on the feet to stimulate and heal other parts of the body. Five years since my last reflexology session, a bit of healing was long overdue…
The spa
Situated in one of the most beauty-centric areas of London, Central London Reflexology is located within A.L.O. Clinic, on the Southern part of Harley Street. Just behind Oxford Street the clinic is easily accessible by public transport and even had options for parking.
On arrival the receptionist gave me a quick health form to complete while waiting for my appointment to begin in the tranquilly lit communal area, to give my therapist an idea of which areas to concentrate on or any health considerations to be aware of, for example, pregnancy or heart/circulation problems.
Treatment
My therapist Mario came out to greet me and offer me a cooling drink while we went through my completed health report. After discussing which areas required most attention (my neck and shoulders) we agreed to focus on the corresponding parts of my feet. The iPod was set to 'Chill' and I hoisted myself onto the couch ready for my feet to be cleaned for the treatment.
Prior to beginning the treatment, Mario instructed me to take a moment to reflect to help me maintain steady breathing throughout. After going through a series of breathing techniques, the treatment began. Mario massaged my feet, focussing pressure on the aforementioned areas. He told me beforehand that concentrating and focusing on my breathing would help maximise the impact of the treatment and make the experience more intense. He was right. The whole thing was overwhelming. It is amazing to think that just touching your feet can have such a powerful effect on the whole body.
The massage ranged from gentle sweeping movements across my feet to dedicated massage on pressure points on the bottom and sides of my toes. At no point was the experience ticklish, in fact I felt surprisingly comfortable throughout. Pressure on certain areas did cause a little discomfort, but Mario explained later as showing that this equated to certain areas of my body that need a little attention and TLC.
The results
Although the hour passed by pretty quickly, the end result lasted for much longer. I was left feeling lighter in mind and spirit, having completely let go of the stresses of the working week. I was delighted. I was also amazed by the way Mario was able to diagnose ailments that had been troubling me. Just from the way my feet responded to touch he was able to detect digestion problems and a lingering cold. I'm very impressed and will definitely be going back.