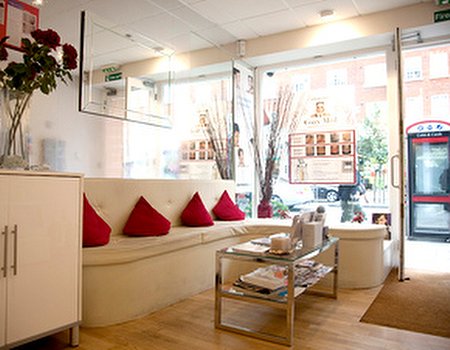 Radio frequency has been practised for years as a skin tightening treatment to treat a multitude of conditions including cellulite and fat reduction. After hearing about the success a friend of mine experienced after undergoing radio frequency I wanted to give it a try so headed to Adore Me MedSpa in Kensington to see what it could do for me…
The venue
A short walk from High Street Kensington tube station, Adore Me MedSpa is very easy to find. The salon is modern and very stylish while still being comfortable, and the staff were very welcoming, offering me a glass of water while I waited for my treatment.
I wasn't waiting for long, within minutes of my arrival my therapist came out to welcome me and lead me to the treatment room for a consultation. The room was fairly basic but very clean, I felt comfortable immediately and ready to get started.
The treatment
Before the treatment began, my therapist carefully talked me through the procedure, explaining what happens, why, and the products involved. Accent radio frequency, she told me, uses controlled heat therapy to fight wrinkles and reshape unwanted bulges or sagging. It works by heating tissue (with a radio frequency machine) to help stimulate collagen production and tighten loose skin – improving body contouring and helping to get rid of cellulite.
A little nervous, my therapist assured me that the treatment would be quick, virtually pain free and there would be no recovery time needed. Phew. I lay down on the bed while my therapist applied oil to my legs before beginning the treatment.
It took about twenty minutes to treat both legs and, while it wasn't exactly painful, I can't say it's the most relaxing treatment I've ever experienced as the treated areas can feel slightly hot as the radio frequency is applied. However, the level of heat really depends on your skin type and sensitivity so the experience will be different for everyone - I know that some people have found it quite therapeutic.
The results
Immediately after the first session I definitely felt that my skin already seemed tighter and more toned, however the therapist did recommend a course of six treatments to see real visible improvements on my skin.
The treatment was a little uncomfortable but the results are definitely worth the 'pain'. I was really impressed by the results from just one session and, although it's not cheap, I'm actually going to invest in a full six-treatment course of radio frequency.