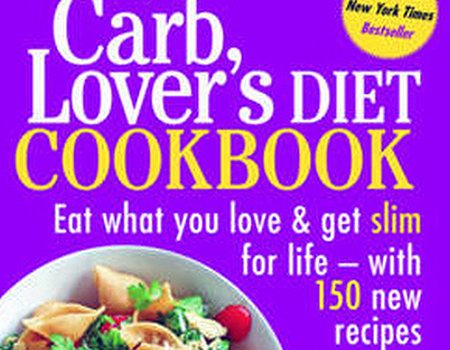 Our book this week is The Carb Lover's Diet Cookbook, which comprises over 150 scrumptious, carb-filled recipes. The cookbook is based on the New York Times bestseller, The CarbLover's Diet, which revealed that eating your favourite carbohydrates – pasta, pizza, potato and bread – could actually help you feel healthier and look slimmer. If this showcase of scrumptious carb-loaded recipes doesn't excite you then we don't know what will…
Who wrote it?
The cookbook is co-authored by Ellen Kunes and Frances Largeman-Roth. Ellen is currently Editor-in-Chief of Health magazine, Editorial Director of Health.com and author of Live Well – Or Even Better – On Less. Frances is a registered Dietician and Senior Food & Nutrition Editor at Health magazine, and is a nationally recognised health expert who has helped thousands of women across America look great by eating healthily. She's the author of Feed the Belly: The Pregnant Mom's Healthy Eating Guide. So, these highly accomplished ladies know exactly what they're talking about and have now joined forces to create this carb-loving treat.
What's it all about?
The recipes are based around The CarbLover's Diet, which introduced a supercarb known as resistant starch. They recognised two types of carbohydrate-rich food; high-glycaemic starch which is quickly absorbed to produce a brief energy hit, and resistant starch, which like its name resists digestion. The science bit: resistant starch produces fatty acids that trigger weight loss, by switching on enzymes that melt fat. In short, it's the good side of those delicious carbs we've been trying to avoid.
The special carb, found naturally in wholegrains, potatoes, beans and some fruits is a powerful weight loss tool, acting as an appetite suppressant and mighty metabolism booster. Based on almost 200 studies, resistant starch found in carbohydrates is the most effective way to slim down and stay that way.
The idea is to devour three carb-loaded meals a day, plus a snack, from the 150 recipes in the cookbook, which include oat and honey pancakes with strawberry syrup, grilled steak fajitas and chocolate brownie bites. Our mouths are just watering at the thought of them...
What did we think?
If the 200 studies suggesting we scoff carbs are true, then we think this cookbook may be the best thing we've ever read. Ellen and Frances provide a delicious variety of recipes – suitable for everyone from cooking novices to Michelin chefs.
The lovely ladies provide a concise breakdown of how the supercarb works without being too scientific or geeky. More importantly, they've included a resistant starch list, so you know exactly how much carb you're consuming. We're still not entirely convinced that carbs are the way to a slimmer waistline – the advice should probably be taken with a pinch of salt – but they do have the science to back it up and some recipes that look too perfect not to try out.
Priced at £12.99, The CarbLover's Diet Cookbook includes a handy must-have kitchen utensil list and cupboard/refrigerator list to ensure you're stocked accordingly. The cookbook is split into handy sections, which include appetizers, cocktails and desserts – it's like all our culinary dreams have come true.
Our favourite ladies provide a 7-day and 21-day CarbLover meal plan and there's a 'grab and go list' detailing nutritional values of common carbs. Finally, Ellen and Frances sprinkle thoughtful cooking tips throughout the cookbook for a very sweet touch – though, probably not as sweet as some of the cakes in the book…
The lovely ladies have even provided the simple and straightforward recipe for that delicious grilled steak fajita - thanks!