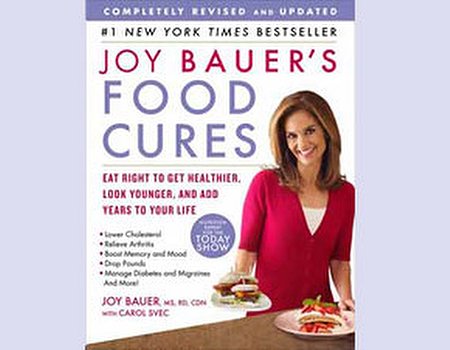 If you've ever needed a comprehensive guide on how to eat sensibly, this is the one book to have on your shelf. This textbook for eating right and feeling healthier is packed with both nutritional expertise and simple recipes, all while trying to add a few years onto your life by harnessing the power of good grub. If you suffer from particular ailments including cardiovascular disease or diabetes, or simply fancy improving the look of your hair and skin, this book will demonstrate what's hot and what's not in the food world.
Who wrote it?
The author is Joy Bauer, who is renowned in America for her nutritional expertise. Her belief that we should be turning around bad eating habits to lead a better way of life has earnt her a prime spot in US television, and she has become a well-known face in many homes as the nutrition and health expert on NBC's Today show. More recently, Joy teamed up with US boutique hotel chain Kimpton to help their chefs create light choices for their menus as well as giving advice on in-room workouts, healthy breakfasts and high energy snacks. Her tips are there to make sure those who usually live a healthy lifestyle don't let it slide while travelling - something we're all a little guilty of come holiday season.
Joy's previous publications include The Joy Fit Club: Cookbook, Diet Plan and Inspiration, Slim & Scrumptious as well as hosting a series of YouTube videos What The Heck Are You Eating? where she breaks down common 'bad' meals and reveals their true nutritional content. As well as television and books, the trained kinesiologist and nutritional expert has also helped to develop medical programmes for hospitals and build one of the largest nutrition centres in the USA for nearly twenty years.
What's it all about?
Food is the most important fuel for our bodies, and Joy Bauer wants to teach us to eat healthily, feel better and add years onto our life. This well laid out textbook is jam-packed with nutritional guidance and easy recipes for breakfast, lunch and dinner so that even the busiest of people can swap takeaways for a far better option.
With chapters highlighting different problems that can be helped with the correct foods - migraine sufferers and insomniacs you can now rejoice - Joy explains the properties of certain foods and how they can help alleviate symptoms of arthritis, PMS and osteoporosis as well as recipes and handy tips.
Other chapters also include how to beat stress, improve memory, prevent cancer, tackle IBS and get a great night's sleep all as part of a four-step programme. The first step is to start with the basics - whether that's to visit a doctor or quit smoking, whilst the second step lists your staple grocery buys. Step three includes extras to help your body deal with your problems, maybe with specific exercises or particular vitamins while step four provides fantastic meal plans - including breakfast ideas, lunch options, snacks, and so on.
What did we think?
Food Cures is one of the best books we've discovered that adequately teaches, advises and supplies recipes for so many common health problems. A large book that covers a lot of ground, its message is music to our ears - and with nutritional information per serving included, it's reader-friendly and practical for using in your every day meal planning.
The tone of voice from Joy is educational and in no way angry or negative - she wants to help us understand food instead of telling us off for reaching for a chocolate bar. Refreshingly, there are no restrictions; just simple tips and food swaps to keep us happy and healthy.
Twitter giveaway
We've got a signed copy of Joy Bauer's Food Cures to give away to one lucky winner – if you want some advice to change your diet and lifestyle or simply enjoying learning about the health benefits of good food, this is the perfect prize for you. Simply head over to our Twitter page and retweet our tweet of this review by 6pm Thursday 14th June for your chance to win - and good luck!