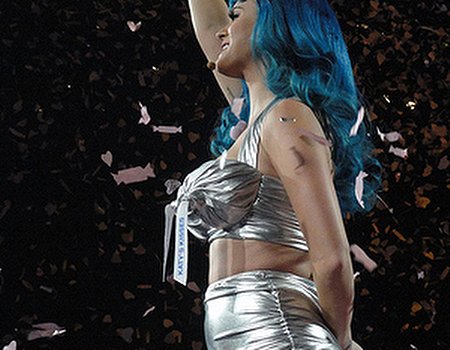 Here at Wahanda we like to keep our eye on the style chameleon that is Katy Perry - and with her latest look she hasn't let us down! Sporting bright blue hair while out and about in Las Vegas on Saturday, Katy matched a turquoise French manicure to her newly dyed locks. One can only wonder why she felt the need for such a dramatic change...
We can't help feeling that Katy's recent split from husband Russell Brand might have something to do with it...Or maybe she's just keeping up her fun and quirky sense of style - her hair has previously been dyed pink and blonde and she sported a thick blue wig during her California Dreams tour (see photo).
Whatever the reason, we're glad that it seems Katy won't be curbing her adventurous fashion sense any time soon! What could be next in store for her ever-changing tresses? We've got a few ideas:
Long extensions
Having sported her short natural hair for a while now when not wearing wigs, Katy might want to show off some long locks for a change. What colour they would be is anybody's guess...
A perm
Katy has stepped out with bouncing curls before, but it's been a while since we've seen that look since the introduction of her chic bob. With perfectly coiffed curls, the singer could recreate the 50's siren look and match her style accordingly.
A pixie cut
With her cute, feminine face Katy could cut her hair shorter and pull it off perfectly. Emma Watson and Michelle Williams have both rocked this look - with her daring style ideas, we're sure Katy could make short hair look great too!
Want to be as bold as Katy and reinvent your look? Check out some great hair salon offers that'll work wonders in updating your 'do. Don't worry, though - you don't have to opt for blue...
Photo courtesy of nikotransmission