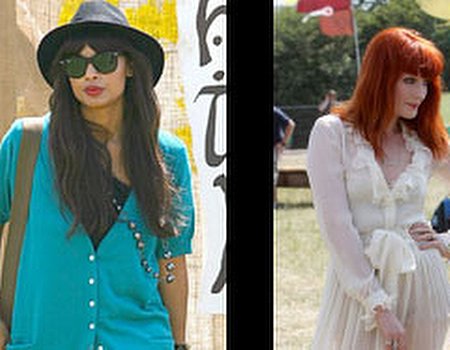 Managing your hair during the summer months can be a nightmare. Kinks, frizz, parched ends, salt and chlorine all take their toll on lengths, extensions and colour, and if you are lucky enough to attend a festival, you have to find a way to tame those locks with minimal effort.
Summer styles need to be quick, easy, but still stylish enough to rock for days on end or straight from the beach, office or pool on a sultry evening. Celebs are never seen looking anything less than polished in public when they know paps will be around, so who better to take a lead from when it comes to laid back looks than the famous at festivals?
Here, top industry stylists Mark Leeson and Leo Bancroft share the secrets on how to recreate the effortless festival dos that have been stealing column inches.
Kate Moss
Leo said: "Kate suits most hairstyles and over the years has tried almost everything. She always returns to her long, messy look, as seen at Glasto recently. Kate has had hair extensions applied to give her some length and volume back after a recent shorter look. Ask your stylist for advice on how extensions can help you achieve this look. For those of you with mid-long hair, it's really easy. Use a sea salt spray on day old hair and srunch the ends with your hands. Glam grunge, it's that simple."
Jameela Jamil
"Rich brunette tones are a key trend right now and this moody, bitter chocolate colour is perfect for the gorgeous Jameela's laid back festival style. To get the look simply blast hair until it is almost dry, using your fingers as a comb. Always apply a heat protection product before drying. Split hair into four sections (imagine four bunches) then twist each section and roll up into itself, securing with a hair grip. Apply heat for a few minutes then allow to cool. By the time you've packed your RayBans you'll be ready to roll. Simply remove clips and run your fingers through to break up the curls. Finish with a spritz of sea salt spray to make sure your wave stays put all day long." Says Mark.
Florence Welch
Leo says: "Florence has become a huge hair icon - her flame haired locks are everywhere. The colour aside, Florence often embraces her hair's natural texture and never opts for anything too polished. This is the biggest theme on the 2010 festival circuit – glam grunge. A key product to create this look is Shu Uemura Liquid Fabric Mineral Texture Spray. Apply to damp hair and diffuse or allow to dry naturally for easy to manage, frizz free curls and waves."
Emma Watson
Mark says: "The plait has made a huge comeback this year, the side plait and fishtail plait in particular. It has become the hairstyle du jour for stylish girls and women everywhere. Emma's messy plait is a sure fire winner in the festival style stakes. This style works best on unwashed hair. Start by sweeping all the hair round to the desired side then plait loosely leaving an inch or so at the bottom. Secure with a covered band then gently tease the plait with your fingers to mess it up a little. Mist lightly with hairspray such as Goldwell Brilliance Sparkling Fix to give staying power and you are ready to go."