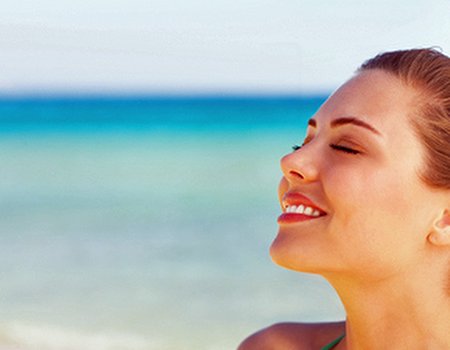 As ever, confusion reigns over how much sunlight is too much or too little… So, here are the answers I recently gave to a journalist asking questions everybody wants to know the answers to.
We're frequently told to stay out of the sun. As we need daylight/sunlight for the manufacture of vitamin D, how much sunlight is too little and how much is enough?
It is now believed in many scientific circles that avoidance of sunlight has resulted in worldwide tendencies for vitamin D deficiencies, especially when sunscreen is applied at all times so no sunlight can reach bare skin. The only real way to know if you are getting enough is through a blood test, becoming more commonly routine amongst the medical profession with good cause as low levels of this hormone are linked to depression, poor bone density and osteoporosis, muscle pain and weakness, inflammation and some cancers, including ironically those of the skin.
Burning from UV exposure is never healthy and any reddening is too late. This is where sunscreen can help particularly at first exposure to hotter weather when lighter skins are building up protective pigment as a tan. Choose those from health food shops with less toxic chemical load.
Fair-skinned people are estimated to need 15-30 minutes sunlight exposure on bare hands and face during the summer for optimal levels. For those with darker skin, the more pigment the longer that time, so that some people may need several hours a day, especially on cloudier days.
Are there any top tips to ensure that we can maintain adequate levels of vitamin D whatever the weather?
In the winter any of us in the Northern hemisphere with little light exposure are at risk; vitamin D is stored in the blood for a few weeks and in the fat for a few months, so top-ups with vitamin D3 supplements or even lamps with artificial UVB light rays are a good option for most of us.
In food, high amounts are found in mackerel, salmon, trout, herring and moderate amounts in eggs; note that cow's milk and other dairy foods are fortified in the US but not the UK. Adequate healthy dietary fats such as free-range meat, fish, eggs, nuts, some whole-fat dairy as yoghurt and goat's cheese, coconut oil, avocado, olive oil, olives and butter are needed for vitamin D production in our bodies. Also foods containing sulphur such as garlic, onions, broccoli, cabbage and eggs help us produce it.
To supplement the normal range of 2,000-10,000IUs a day is safe, with 2,000IUs a day common in high-strength supplements, which tend to be in vitamin D3 or in cod liver oil. Vitamin D3 is the natural form from animal sources and many vegetarian supplements use the synthetic D2 version which works less effectively. Specialist vegan vitamin D3 sprays are now available.
Are any adult groups at particular risk of inadequate levels of vitamin D?
Those with darker skin tones, those who cover up, especially when living in Northern climates. Those who work at nights and see little midday sunlight. General advice is to spend 10 minutes outside in direct sunlight exposing your face and forearms, or 30 minutes when it is dull or cloudy, without sunscreen every day to boost your vitamin D levels.