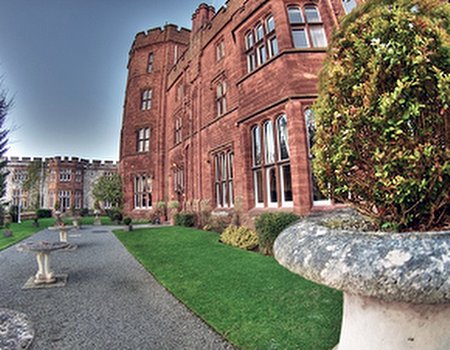 The privately owned Ruthin Castle in North Wales is set to launch its new concept spa, The Moat, in July. As the name suggests, the spa will be located within the moat glades and woodlands surrounding the Ruthin Castle to combine both indoor and outdoor spa facilities – giving you the best of both.
The Moat's indoor services include spring water and mineral-rich hot tubs, thermal rooms, a mud bath, and five treatment rooms including a VIP couples' room. For added comfort, the nouveau spa will boast a Dutch hot tub, log-fired sauna and fire pit for barbeques. With the Clwydian Mountains in Castle range, a spring water shower will be one of the many special facilities to complement their extensive range of treatments.
The Moat fuses nature with luxury in its majestic North Wales location while incorporating elements of cultures from around the globe. Ingredients used in the treatments such as the Anglesey sea salts, herbs, seaweed and sweet honey will be sourced from within a five-mile radius. This attention to detail in the quality of produce means every experience will reflect the rustic surroundings of rural North Wales – so it's more than just a spa.
The owners of Ruthin Castle and The Moat, Anthony and Amanda Saint Claire, explain: "It's about a sense of place – we believe that when you visit a spa it should have an inherent sense of where you are, it should reflect the surroundings."
"We didn't want The Moat to be just another characterless hotel spa experience. From sourcing local goods, services and ingredients to designing The Moat as very much a part of its historic Welsh landscape environment, we have tried to reflect that philosophy."
The indulgent spa was developed and designed using research collated from Finnish, Russian and Siberian spas, combining near and far experiences to inspire and relax us here in the UK. Come July, we'll be the first ones at the gate to see how it's done…